Recently, we have two sets of 1500gpm mud system for one big HDD project. The client is China local famous contractor on HDD project and Tunnelling project. The 1500gpm drilling mud system including below items:
1)       3 sets of shale shaker, each shaker 500gpm treating capacity and 1500gpm for 3 shakers. GNZS594E-HB shale shaker is the most popular shaker for oil drilling mud treatment application, the long deck with 4 panel shaker screen can reach very good working performance. For HDD project, 4 panel shaker is also very popular. The price of 4 panel shaker and 3 panel shaker is almost same, but the working performance is much better.
2)       1 sets mud cleaner with 3 ea desander cones & 16 ea desilter cones. The mud cleaner is combination of desander, desilter and deck shaker. Much compact design with smaller footprint, the treating capacity can reach to 1500gpm treating capacity.
3)       2 sets centrifugal pump for feeding desander cones & desilter cones. The centrifugal pump is replacement for NOV brandt mission pump.
4)       One recycling tank with above solids control equipment; one mud storage and mixing tank with mud agitators, mud guns, mud hoppers, shear pump, centrifugal pumps….Totally 2 mud tanks for one set 1500gpm mud system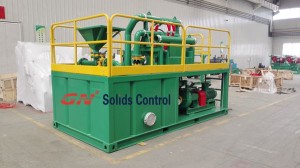 Except for this 1500gpm mud system, we have over 30 sets 500gpm mud system working for CPP, China largest HDD contractor. We also export some 500gpm mud system to overseas client for water well drilling.
GN Solids Control have two major products areas. One is for HDD compact mud systems, the other one is oil drilling mud systems / solids control equipment / decanter centrifuges.  GN Solids Control have hold hands with many overseas drilling contractors, mud engineering chemicals companies, mud service companies, oil service companies, shaker screen trading companies etc. If you are in need of some solids control equipment, pls contact us freely. We will provide with professional consultant service, high quality equipment and reliable after sales service.