Screw conveyor is normally used to transfer the drilling waste from solids control equipments to vertical cuttings dryer or high G drying shaker, or collect drilling waste from collection hopper and transfer to other place. The main components including: motor, coupling, gearbox, cover, hanging bearing seat, header of the driving end, screw shaft, blind flange, housing assembly, etc. The drilling cuttings is fed into the screw conveyor and transferred along with the rotating screw, the screw is sealed inside the trough by a hinged metal lid which is bolted down for safety, the feed port and discharged port can be designed as per client's requirement.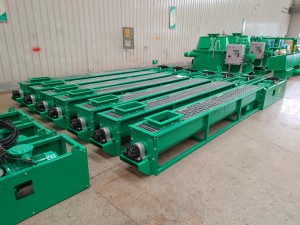 Maintenance of the screw conveyor:
Compared with sludge vacuum pump, the operation and maintenance of the screw conveyor is easier, the vacuum pump operation need air compressor for air supply, the valves need to be checked regularly, the inlet hose and discharge hose length will be customized according to suction and discharge length required. The suction depth should be within the limit to ensure the performance of the vacuum pump. The maintenance of screw conveyor including bearing lubrication, gearbox oil level checking and gearbox regular checking, oil seal replacement, electric motor checking, etc. Under different ambient temperature, the grease lubricated should be used for different model. The screw conveyor can be installed horizontally or declined by installed different support frame. It can be installed under the solids control primary shaker along with shale shaker tank, the drilling cuttings are transferred by screw conveyor to the 2nd screw conveyor , which is installed slantly, it will transfer the drilling cuttings to vertical cuttings dryer or high G drying shaker.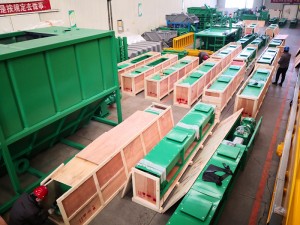 The user can select to use screw conveyor and sludge vacuum pump depends on its location and area dimension, sometimes both of them can be used together.