Last week GN solids control shipped several sets of linear motion shale shaker and linear motion mud cleaner to Russia, together with centrifugal pump for feeding of mud cleaner and decanter centrifuge, the centrifugal pump with control panel installed on the skid.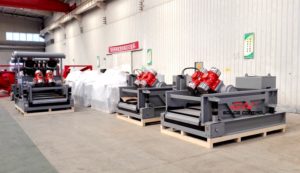 This is not the first order from this client, we have shipped solids control equipments to Russia for the service of 10 rigs. Including linear motion shale shaker, linear motion mud cleaner, high speed decanter centrifuge with mud cleaner feeding centrifugal pumps. We are the only supplier in China who has stock for these equipments and can ship the goods as per the client's request.
GNZS594 series shale shaker is a 4-panel shale shaker with shaker screen size 585x1165mm, total screen area is 2.73m2.We have F version updated GNZS594 shale shaker now, compared with the E version, the difference is as below:
1)    shaker screen replacement method: both of them are locked by wedges, but for the F version shaker design, the wedge design is updated, we provide a special tool to lock and remove the wedges.
2)    Dual motion vibration method: linear motion and progressive elliptical motion for option. For this client, the shaker is only with one vibration method: linear motion, but when the client need elliptical motion shale shaker, we will use import brand vibration motor like Martin, we have warehouse and facility in Houston, we will make the assembly in USA for fast delivery and qualified performance.
Continue reading →