As a mud cleaner manufacturer in China, GN solids control can produce different capacity mud cleaner, desander, desilter with single deck bottom shaker or double deck bottom shaker or without bottom shaker.
Firstly we need to know what is a mud cleaner? A mud cleaner is a combination of hydrocyclones and bottom shale shaker.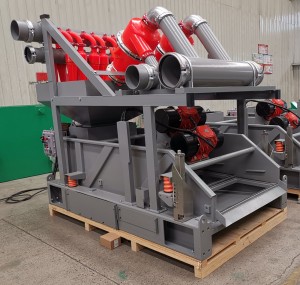 The mud cleaner hydrocyclones are made of 100% polyurethane for better abrasion resistance. A hydrocyclone should be feed by a centrifugal pump, without the feeding pump, it self can not work properly. We know that for oil and gas drilling industry solids control system , the mud cleaner normally use 4 inch desilter cone and 10 inch /12 inch desander cone, the desander separation cut point is 45~75 microns, the desilter separation cut point is 15~40 microns. The hydrocyclones working principal is as below:
The centrifugal force generated by the centrifugal pump in the hydrocyclones cause the solids in the drilling mud to be separated from the fluids. As gravity increases, the centrifugal force in the cone accelerates the solids settling.  Hydrocyclones can increase gravity 200 times. The solids are discharged from the lower apex of the cone, and the clean drilling fluid is discharged from the overflow and flows into the corresponding compartment through the fluids discharge pipe of the mud cleaner. The next centrifugal pump will transfer the mud from this compartment to the next l processing.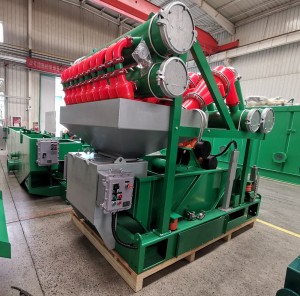 A hydrocyclone including upper cone, bottom cone, clamps, drop in apex, nozzle, some cones also with elbows. The apex opening size could be optional as per drilling fluids conditions in case of blocking in the hydrocyclones. The solids and fluids mixture rotates very fast and spiral down toward the drop in apex of the hydrocyclones.
If you need a solids control mud cleaner, pls contact with GN solids control.