As a waste sludge dewatering equipments manufacturer in China, GN solids control can produce a range of sludge dewatering equipments for our clients applied for different industries. Such as dewatering centrifuge, screw press dewatering machine, chemical doing unit. Recently one batch of waste sludge treatment equipments are ready for shipment to our environmental company customer.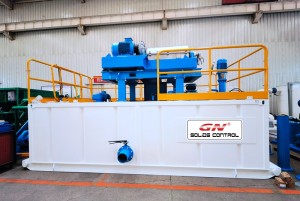 Dewatering centrifuge unit with chemical doing unit is the most popular dewatering equipments for waste sludge treatment, like oil sludge treatment, construction waste sludge treatment, industrial waste sludge treatment. It is consist of one unit of dewatering centrifuge with VFD control panel, one unit of centrifuge feeding pump, one set of fluids collection tank, one unit of chemical dosing unit, sometimes it is installed on the skid of mud tank, sometimes it is in a separate skid or installed inside a 20ft container for sun/water proof and convenient operation. The waste sludge and prepared chemicals are mixed inside the centrifuge feed pipe, sometimes we will install Static mixer before that for their better mixing, then the mixture sludge will flow to centrifuge and treated as solids and liquid. If the user need further treatment like fluids with fluids, such as oil and water, we will use 3 phase decanter centrifuge or 3 phase disc centrifuge to treat the fluids to get pure oil and relatively pure water.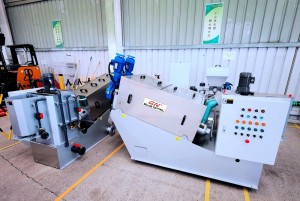 The screw press machine is introduced as sludge extrusion dewatering equipment, compared with filter press and dewatering centrifuge, it has its own advantages and disadvantages. For energy saving, decanter centrifuge is the highest engery consumption, ,and screw press is the lowest, for cost issue, filter press is the highest, decanter centrifuge in middle and screw press is the cheapest. For treating capacity, decanter centrifuge is high with better treatment result, the screw press is lower, for operation cost, screw press is the lowest.