3 units of dewatering centrifuge units are ready for shipment to Europe client. The equipment list including: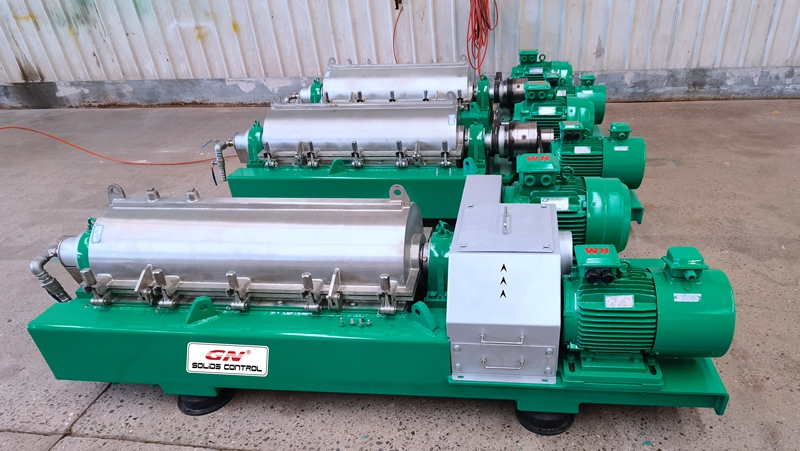 3 sets of GNLW224EP-VFD decanter centrifuge
3 sets of dewatering unit
3 sets of centrifuge feeding pump
3 sets of liquid collection tank
The working process is that the centrifuge feeding pump transfer the slurry to decanter centrifuge, at the same time, the proper chemicals are mixed and prepared in the PAM Three Tank Automatic Powder Polymer Mixing System, and the chemical dosing pump transfer the chemicals to decanter centrifuge, too. The slurry and chemicals are mixing in the decanter centrifuge feed tube, then the decanter centrifuge separate the solids and water in the screw. The longer of the centrifuge bowl length, the longer time of the fluids stay in the screw, so the separation performance is better to get clear water and drier solids. The water will be reused to save cost for the user, the waste will be reused a lot and save the waste disposal cost.
The decanter centrifuge features are we below: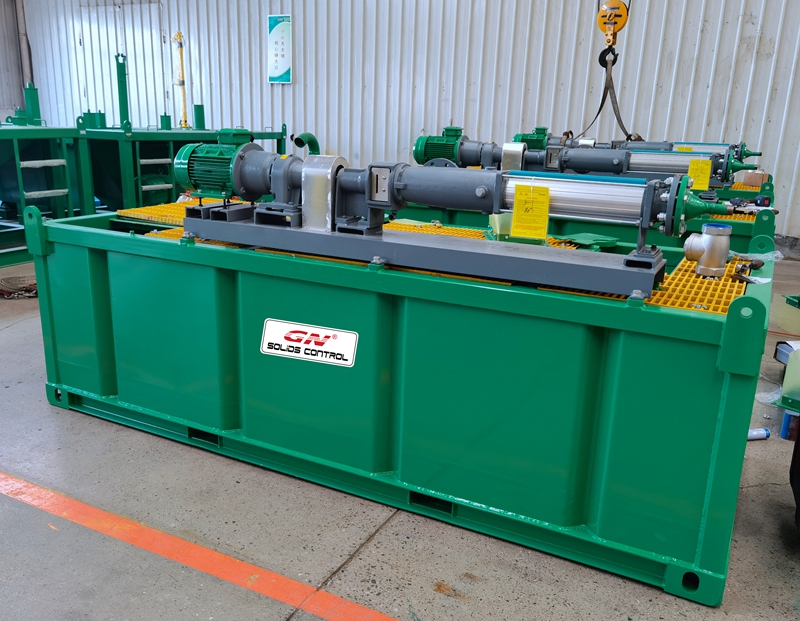 1) The bowl material is made of duplex stainless steel 2304 by centrifugal casting.
2) The screw propeller is protected by tungsten carbide tiles with stellite backing plates for longer working life
3) The liquid discharge port and solids discharge port are all protected by tungsten carbide wear liners which is interchangeable.
4) The pond depth is adjustable and large G force range, the max G force is 4500rpm, the working bowl speed is 0~3800rpm.
The bowl frame is made of carbon steel, coated with heavy duty corrosion resistant (Ball lasting to SA.2.5 Grade, Zinc rich Heavy Duty epoxy primer 50um, Epoxy micaceous iron oxide intermediate 100 um, Polyurethane topcoat finishing 80um)
5) VFD control panel drived with main motor , back drive motor and feed pump motor.