This is the 6th time for GN solids control to show at OTC in Houston, and this is the 3rd time for GN solids America to participate the show, we start to show our decanter centrifuge at OTC since 2012, when our USA branch office is still in preparation.
This year we will show our new equipments as below: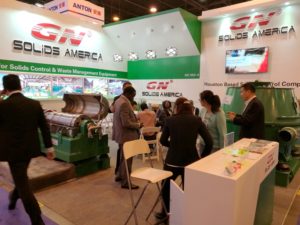 Hydraulic drive decanter centrifuge: GN VFD decanter centrifuge has been widely used in drilling waste management system, oil sludge separation system, solids control system and waste water treatment. The hydraulic drive centrifuge is can be used in some area when electricity is limited, could be another option.
New developed shale shaker: Different with the traditional shale shaker, the new technology shaker screens can save the shaker screen replacement time for easy operation.
Updated shaker screens: Since June of 2016, we start the production of shaker screens in our new factory in Beijing, we introduced new shaker screens production line, especially for the production of composite material shaker screens, replacement screens for most of the other brand shale shakers.