As one of GN solids liquid separation system, GN Hydrovac Slurry Treating System's working principal is also solids and liquid separation. The main purpose is to get waste water recovered and dry solids collection, it can save cost for the customer by less water consumption, less waste disposal cost and earn more money from project. We have over 11 units of Hydrovac Slurry Treating System working in USA and Canada, the technical specs is more or less similar as below: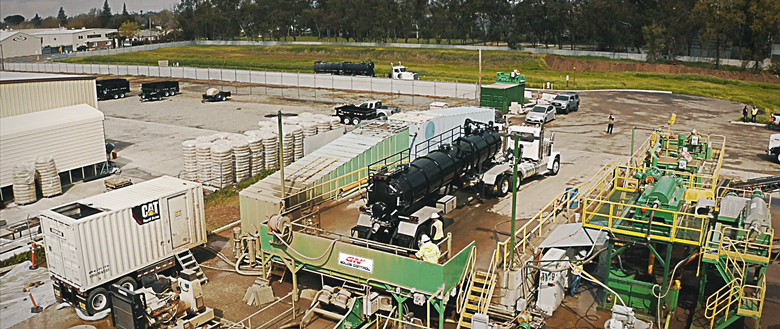 1 sets of slurry collection hopper system, the general treatment capability for this hydro vac slurry treating system is to treat about 30 ~ 40 hydro vac truck loading every day. The special designed large hopper can accept slurry from 2 hydro vac truck at the same time, it will improve the treating efficiency of the whole system. The submersible slurry pump suck the slurry from collection hopper to coarse solids separation shale shaker.
1 set of coarse solids separation unit, the coarse solids are separated out by 1mm size opening shaker screen, to protect the equipments in the next step and extend longer working life, the fluids drop into the catching tank. Another submersible slurry pump transfer the fluids to fine solids separation unit.
1 set of fine solids separation unit, the 4 inch desilter cone separation cut point is 20 microns, the discharged fluids drop into the mud tank, the screw pump installed in the system will feed the fluids to decanter centrifuge for further treatment.
1 set of decanter centrifuge package with chemical dosing unit, the decanter centrifuge mechanical separation cut point is 2~ 5 microns, by chemical jetting, the ultra fine solids can be separated out up to 1 microns, so the water recovery will be more clear, which can be reused or send to waste water treatment facility.