GN mud system is working for many HDD drilling client, both in domestic market and overseas market. Good performance mud system can help to improve the drilling efficiency, thus to improve the production cost of contracts.  GN Solids Control mud system including 200gpm mud system, 500gpm mud system, 800gpm mud system, 1000gpm mud system etc.
GN Solids Control is China leading manufacturer for HDD drilling mud system, compact design with much smaller footprint. CPP is China largest HDD drilling company, they have over 30 sets mud system from GN and they give us feedback many times each year to help to improve the design of GN mud system. After some years jobsite experience accumulation, GN mud system design is much more user friendly. Even compared with US brand / European brand mud system supplier, GN Solids Control mud system is much more cost-effective.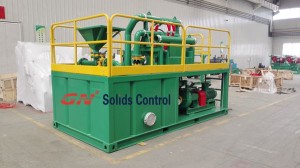 Recently, we have 2 sets 500gpm mud system delivery to Middle East Drilling client. The basic configuration of the mud system including:
1) One set shale shaker GNZS703E-DZ, this is GN 3 panel shaker specialized for HDD drilling. We also have 4 panel shaker for option. GNZS594E-HB shaker is mostly used for oil drilling, longer shaker deck with 4 panel composite material shaker screen can reach much better performance than 3 panel shakers.
2) One set mud cleaner GNZJ703-1S8N. This is three in one unit mud cleaner with shale shaker & desander unit & desilter unit. It contain 2 phase separation steps, but only one unit, much compact design. The deck shaker is same as shale shaker in above, same spare parts, much convenient for spare parts stock.
3) Three sets centrifugal pump GNSB 6X5-12J. One pump is feeding for desander cones; the other one pump feeding for desilter cones; the last one pump for transferring the mud out to rig.
4) Mud hopper installed upside of the mud tank, for mixing chemicals, like bentonite / barite. Some client want the mud hopper installed downside the mud tank, easy for mixing. In this case, we may offer one set jet mud mixer with one mud hopper & one pump installed on same skid plate. This part can be customized as per clients' requirements.
Any request, pls contact GN Solids Control.