Another set of GN hydrovac slurry dewatering system used in North America, this is not the first unit of hydrovac slurry dewatering system working in North America, according to client's feedback, we are very pleased to improve our design and production according to client's feedback and suggestion, our design principal is user friendly and high performance cost ratio.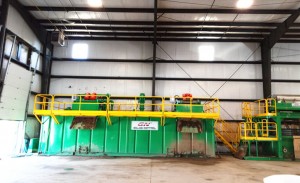 The technical configuration of GN Hydrovac Slurry Dewatering System is as below:
1)    Catch hopper, to collect the sludge material dumped from hydrovac truck and feed to coarse solids separation shaker.
2)    Coarse Shaker , to separate the coarse solids, big stones and other metal materials, so that the slurry will not damage the shaker screens of the double deck fine mesh shale shaker. The submersible slurry pump feed the slurry to fine shaker.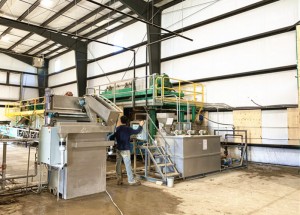 3)     Double Deck Fine Shaker GNZS706F-SHBF, there are 2 layers shaker deck, the top screen is to separate the coarse solids, the bottom screen is to separate the fine mesh solids. GN solids control can produce shaker screens comply with API RP13C standard from API 20 to API 325.
4)    Desilter GNZJ594-12N , which is a combination unit for desilter cone and bottom shale shaker, the 4 inch desilter cone separation cut point is 20 microns. The bottom shaker screen dimension is 585x1165mm. the desilter cone is 100% polyurethane material for better abrasion resistance.
5)    Decanter Centrifuge GNLW553-VFD , with separation cut point is 2~5 microns, by using proper chemicals, the separation cut point is up to 1 microns. The decanter centrifuge is installed on the telescopic skid, a fluids catching tank is under the decanter centrifuge.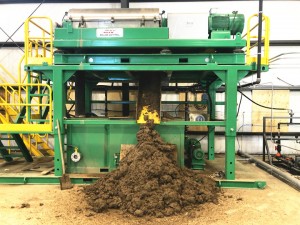 6)    Chemical Dosing Unit, the proper chemicals should be used with decanter centrifuge.
7)    Mud Tank 10369x2100x2312mm, the dimension is suitable for container shipment, with tank accessories and pipelines, the equipments installed on top of it.