Recently GN shipped one set of 750HP drilling rig solids control system to our client in China. The main configuration is as below:
4 sets of mud tanks
2 sets of GNZS703E-HB linear motion shale shaker
1 set of GNZS752E-2S desander
1 set of GNZS752E-12N mud cleaner with desilter
1 set of GNLW452 decanter centrifuge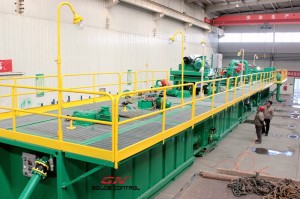 Solids control pumps for feeding the desander and mud cleaner
Mud mixing unit including hopper and mixing pump
Mud agitators and mud gun as required
Features of the system:
The solids control system including 4 phase cleaning solids control equipments, the first phase cleaning is by shale shaker, the 2nd phase is desander, the 3rd phase is desilter, the 4th phase cleaning is decanter centrifuge.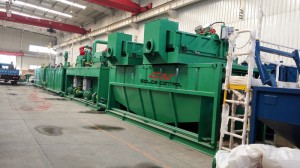 2 desander and desilter with bottom shaker screens for drying the discharged solids and recycle more useful drilling fluids. In some cases, the client will use desander, desilter without bottom shaker screens, by this way, it is very easy for overflow, then they use a separate shale shaker as the bottom shaker to use after desander and desilter.
3 Separate skid of jet mud mixer to increase the storage volume of the mud tanks, and it is flexible to connect with either tank.
4 The desander centrifuge will not work all the time, it will work temporarily when it is required to separate ultra fine solids, to keep the drilling fluids balance. GNLW452 centrifuge is the cost-effective model centrifuge with middle speed, it is mainly used to barite recovery.