One unit of GNLW554ET-VFD dewatering centrifuge is shipped to oil sludge treatment project in China this week. Dewatering centrifuge is special designed for waste water/ sludge treatment. The technical configuration is as below: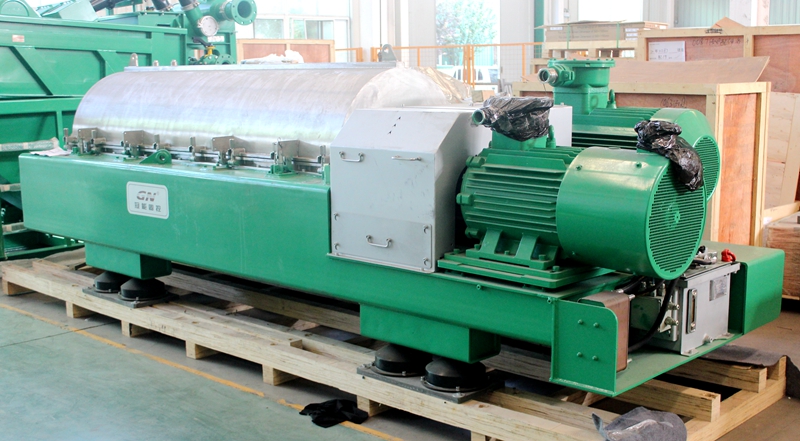 Model: GNLW554ET-VFD
Bowl diameter: 22 inch
Bowl length: 91 inch
Max speed: 3150 rpm
Max G force: 3051G
Bowl L/R Ratio: 4.2
Main motor: 90KW
Back drive motor: 45KW
Beach angle: 8.5 degree
Bearing brand: SKF
Bearing lubrication system: thin oil circulation oil station for heavy loading and high speed operation.
Drive system: VFD control panel with stainless steel material cabinet, CNEX, IEC EX or ATEX explosion proof standard can be selected. The constant torque control system, the automatic flushing and dosing system, the monitoring and alarm system can be installed on the VFD control panel as per client's customized requirement.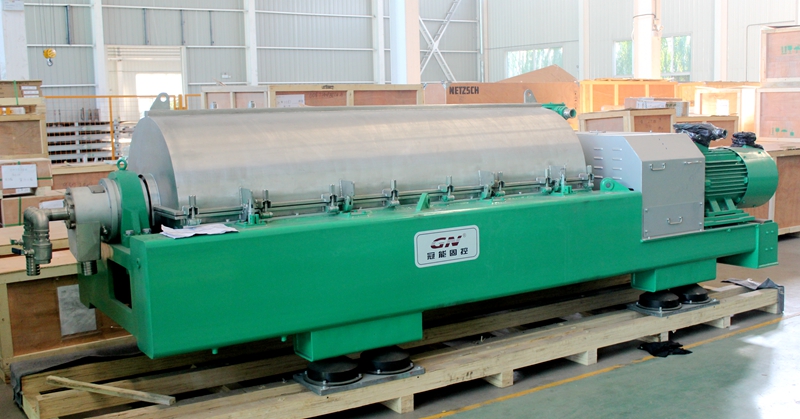 The bowl material is made of duplex stainless steel 2205/ 2304 for better corrosion resistance, the other components are made of stainless steel 316L, the screw is made of duplex stainless steel 2205 by centrifugal casting, the screw propeller is protected by tungsten carbide tiles for longer working life, and it is repairable. The solids discharge port and fluids distribution port is protected by tungsten alloy.
The Netzsch brand screw pump is used as decanter centrifuge feeding pump for continuous working and convenient frequency adjustment and control the flow rate. The dewatering centrifuge is used to install ona fluids collection tank or telescopic skid.
Except for GNLW554ET-VFD dewatering centrifuge, GN SOLIDS CONTROL also produce GNLW553C-VFD, GNLW554EP-VFD decanter centrifuge with 22 inch bowl, we can also produce 9 inch, 14 inch, 18 inch, 22 inch, 30 inch bowl decanter centrifuge for different applications, as drilling fluids treatment, drilling waste management system, waste water treatment, oil sludge separation system, dredging slurry separation system, mining tails treatment, etc. project.