As the screw conveyor and screw pump manufacturer in China, GN solids control recently shipped one batch of screw conveyors and screw pumps to our client in Africa. These equipments are used for drilling waste management system, the screw conveyor is used to transfer the drilling waste to vertical cuttings dryer, the screw pump is used to feed the decanter centrifuge and flush the vertical cuttings dryer.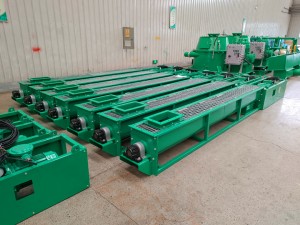 A drilling waste management system including a vertical cuttings dryer with flushing pump, a decanter centrifuge with its feeding screw pump, telescopic skid, fluids collection tank, screw conveyor for drilling cuttings transfer, for discharged solids collection and transfer. As the important components of the drilling waste treatment system, the screw pump and screw conveyor's quality is very important. The client already bought GN decanter centrifuge and vertical cuttings dryer before.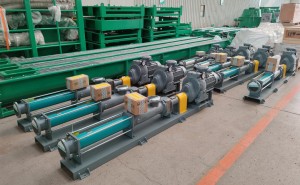 The screw conveyor system is customized according to the site layout, the screw diameter is optional for 10 inch, 12 inch, 14 inch, 16 inch, 18 inch, the screw length for each section is 12ft, the client can select 1 section (12ft ), 2 section (24 ft) , 3 section (36 ft), 4 section ( 48 ft), the screw conveyor can be installed horizontally or slantly ( the installation angle should be less than 45 degree). The inlet port and outlet port can be customized according to their requirement. the manual adjustable speed ensure the feeding rate can be controlled manually, the user can adjust the feeding rate according to vertical cuttings dryer working conditions.
The screw pump fluids touch components are made of wear resistant alloy, the manually adjusted speed can control the feeding capacity to the decanter centrifuge, once the solids content is higher, the user can reduce the feeding to avoid blocking the screw.
If you need screw conveyor and screw pump, pls contact with GN Solids Control.