Recently one batch of linear motion shale shaker, mud cleaner, decanter centrifuge are ready for shipment to oilfield service company. They are used to treat the used drilling fluids and recycle them to prepare for new drilling fluids, the new drilling fluids will be reused for drilling rig. As one of the solids control equipments and system manufacturer in China, GN solids control can produce complete line solids control equipments, including linear motion shale shaker, elliptical motion shale shaker, mud cleaner, desander, desilter, vacuum degasser, decanter centrifuge, mud agitator, centrifugal pump, mud gas separator, vertical cuttings dryer, mixing hopper, shaker screens, screw pump, screw conveyor, etc.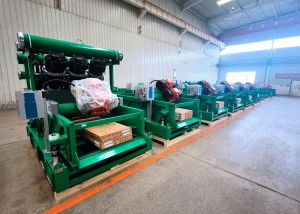 The single layer shaker screen with 4pcs panel shaker screens with 2.73m2 screen area, the equipped shaker screen is composite material frame shaker screen for longer working life and better separation performance. The mud cleaner with same model bottom shaker, the client can stock the wear parts convenient, the desander cone and desilter cone are installed with 1500gpm treating capacity. The cone is made of 100% polyurethane for better abrasion resistance. We can provide mud cleaner feeding pump – centrifugal pump, complete with pump head, explosion proof motor, pump skid, pump control panel, coupler with cover, etc.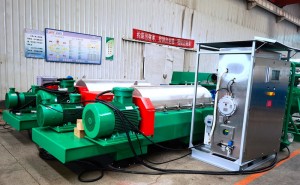 The GNLW454ET-VFD decanter centrifuge is a high ratio 18 inch bowl decanter centrifuge with VFD control panel. The bowl diameter is 18 inch, the bowl length is 74.5 inch, the designed capacity is 400gpm, the typical treating capacity is 300gpm, The max bowl speed is 3500rpm, typical bowl speed is 0~3200rpm. Max G force is 3084G, typical G force is 0~ 2578G. The screw is protected by tungsten carbide tiles, the fluids distribution port and solids discharged port is protected by tungsten carbide alloy. Normally we use screw pump as decanter centrifuge to adjust the flow rate easily.