As a worldwide reputation brand, GN Solids Control owns its professional electrical control department to support its products line.
As most of the industry control panels should be used outdoors and some for hazardous environment. In order to ensure the longer lifetime and reliable performance at jobsite, all GN control panels are explosion proof higher than IP54. Good sealing for water and dust resistance is the basic request of ex performance. It ensures the control panel can be running reliably outdoors, especially for all kinds of drilling activities and underground constructions.
What kind of control panel GN Solids Control do make and offer?
1) Magnetic control for small power equipment ≤30kw. It is a kind of direct start for small motors. Magnetic control is widely used for solids control shale shaker, drilling fluids mud cleaner, high G drying shaker, drill mud agitators, small size pumps, drilling cuttings screw conveyers, etc…
2) For motors bigger than 30kw, direct start control panel is not suitable. Star delta starter control panel is widely used for motors ≥ 37kw. It can protect motors during starting.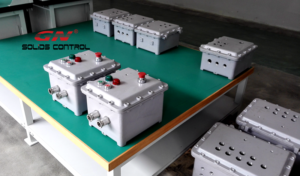 3) Soft starter is another kind of control for motors ≥ 37kw. It generates a small current during starting. Compared with the start delta starter control panel, soft starter control panel is much better. It can save power. If client want use a small size cable for the motors or choose a smaller power generator, soft starter is better choice. But the soft starter control panel price is much higher than delta starter control panel.
Big pumps, vacuum degassers, decanter centrifuges, VG dryers, they have big motor. They should use star delta starter control panel or soft starter control panel.
4) Magnetic starter, control panel delta start control panel and soft starter control panel are for all fixed speed control. GN Solids Control does also offer variable speed control panels per request. VFD control panels are widely used for screw conveyer to change the transfer speed, transfer screw pump, decanter centrifuges.