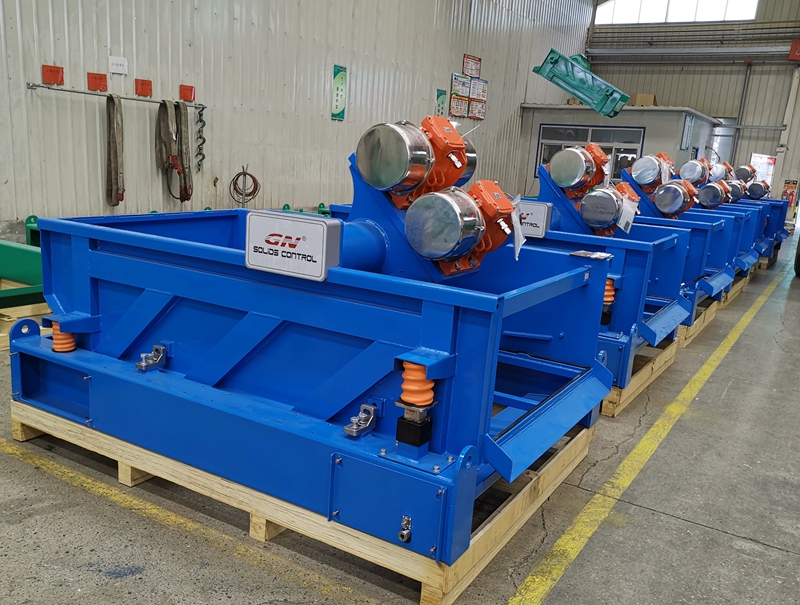 As the most professional manufacturer of decanter centrifuge and shale shaker in China, GN solids control recently shipped one batch of solids control equipments to USA client. The client can make the accessories locally to save import cost and freight cost, such as shale shaker mud tank or catch tank, decanter centrifuge feeding pump and telescopic skid, etc. We have warehouse and after sales service team in USA locally to support the project.
The shale shaker is the first phase cleaning equipments for separation of solids from drilling fluids, the fluids dropped down into the mud tank, then the feeding pump of decanter centrifuge will feed the fluids to decanter centrifuge to separate the fine solids from the fluids, so the discharged clean fluids can be recovered and reused to prepare for new drilling fluids, by using the chemical dosing system together, the user can separate the ultra fine solids up to 1 microns, then the remained water can be clean enough to be sent to waste water treatment facility.

The big bowl decanter centrifuge with big treating capacity is the ideal option to be used with dewatering unit, once adding the chemicals, the treating capacity will be reduced a lot according to the density and viscosity of the materials, if the client need higher output, the big bowl decanter centrifuge with 18 inch, 22 inch and 30 inch bowl diameter. The bowl material is made of duplex stainless steel 2205 or 2304 for better corrosion resistence, the screw is completed made of stainless steel and heat treatment up to 1000 degree, the open design of the impeller can increase the treating capacity. The collection box is also made by stainless steel for longer working life. The bearing is SKF brand for better performance.
Welcome to contact with GN solids control for more details.