GNLW764A-VFD decanter centrifuge with dewatering unit are delivered to our TBM engineering client for TBM slurry separation, the big bowl big volume decanter centrifuge GNLW764A-VFD is the biggest model we can produce right now, the technical specification is as below: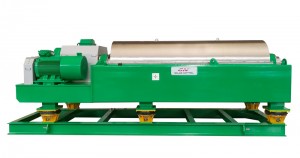 Bowl diameter: 760mm, bowl length : 3328mm, the designed treating capacity is 528gpm, max bowl speed s 2650rpm, normally used 2200rpm, max G force is 3000G, the typical G force is 2060G,the gearbox torch is 25000N.m. with gearbox ratio 38:1, the differential speed adjustable from 5 to 28 rpm, the main motor power is 160KW, the back drive motor power is 90KW, the mechanical separation cut point is 2 ~ 5 microns.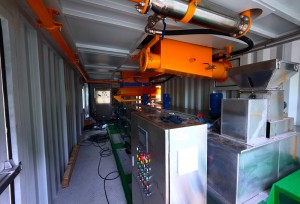 To get more pure water and drier solids discharged, the user can add flocculants to the mud with chemical dosing unit GNDW-6000L, which with treating capacity 6000L/h. the chemicals can be added into the 3 compartment chemical mixing tank, which with mud agitator, to mix the dry powder with water, the mixed chemicals are feed to decanter centrifuge feed tube by the chemical dosing unit, we have 2 units in the system, one for use, one as back up. The mixed chemical are mixed with slurry in the decanter centrifuge feed tube and separated by the decanter centrifuge, the chemicals can improve the separation efficiency and get more clear water and much drier solids, the water can be reused by TBM, the solids can be colleted by bag or transported by truck. All the equipments are installed inside the 20ft container, 2 containers overlay placement can save space requirement, and for convenient transportation, also it is sun proof, rain proof and user friendly design, equipped with proper windows, doors, lightings and air conditioner.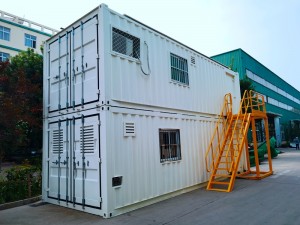 If you need a customized TBM slurry separation solution, pls contact with GN solids control.