Recently GN solids control shipped 2 units of GNLW554EP decanter centrifuges to our client in Yunan Province, China, they have a project to treat industrial waste water from an industrial area. As one of the most professional decanter centrifuge manufacturer in China, we have C series decanter centrifuge, Y series decanter centrifuge and P series decanter centrifuge.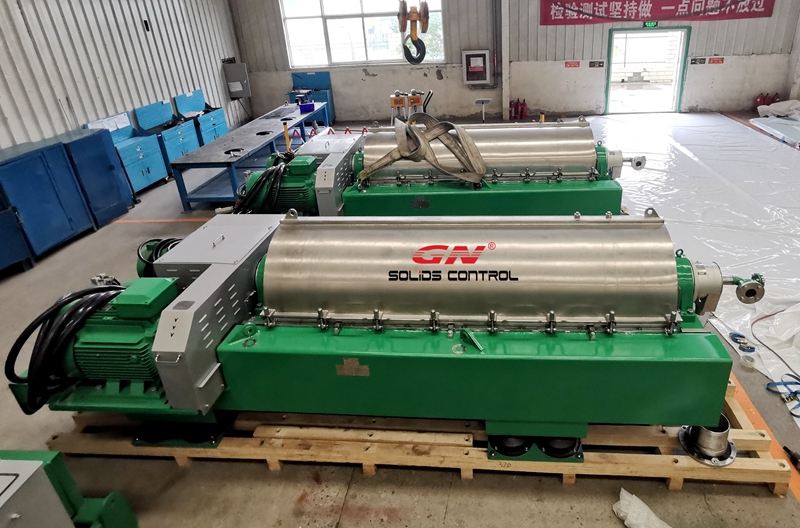 Except for electricity drived decanter centrifuge ( fixed speed and VFD ), we also have full hydraulic drive centrifuge, the full hydraulic drive decanter centrifuge is used for high temperature ambient for heavy mud with variable bowl speed and differential speed.
"P" decanter centrifuge is dewatering type decanter centrifuge, it is used with dewatering unit as dewatering centrifuge unit, the main applications are for drilling mud, environmental protection sweage, oil sludge, chip fluids, sand washing water, mineral water, soda white mud, salt mud dewatering, etc. We have 6 models of P series decanter centrifuge, GNLW224EP, GNLW364EP,GNLW454EP, GNLW554EP, GNLW654EP, GNLW764EP. The GNLW554EP decanter centrifuge main power is 90KW+45KW, the drive system is VFD with PLC smart control, HMI interface, the bowl material is duplex stainless steel SS2205 by centrifugal casting, the screw material is duplex stainless steel SS2205 or SS316L, the screw impeller is protected by tungsten carbide tiles, the screw beach angle is 11 degree. The bearing is SKF brand for reliable and longer operation.
GNLW554EP decanter centrifuge should be working together with dewatering unit, the user can choose proper type chemicals which can improve the separation efficiency, we can help the client to make a lab test with the waste water samples to test the proper chemicals performance.
Except for industrial waste water treatment, GN decanter centrifuge can be applied for oil and gas drilling mud cleaning, drilling cuttings treatment, oil sludge treatment, TBM slurry dewatering, mining tailings cleaning, dredging slurry separation, etc. applications.