GN solids control can design and produce both WBM waste treatment system and OBM waste treatment unit. The core equipments for WBM waste treatment system is high G drying shaker and VFD decanter centrifuge, the major equipments for OBM waste treatment unit is vertical cuttings dryer and VFD decanter centrifuge.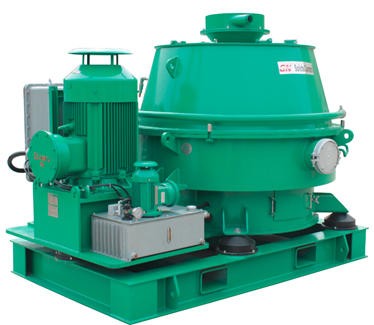 The working principal of vertical cuttings dryer is as below:
The major components of vertical G dryer including stainless steel screen basket, rotor assembly, bearing, individual oil lubrication system, control panel, main motor, oil pump motor, air knife to clean the screen basket to prevent it from blocking the screen basket, bell jar. By centrifugal force, the screen basket accelerates to 900rpm with 420G force, the liquid is forced pass through the screen opening, and the dry solids are extracted by flights to the cone, which rotate slowly than the screen basket. The flights are protected by tungsten carbide alloy with better abrasion resistance for longer working life. The fluids flow to intermediate tank through fluids discharge line, the dry solids are discharged from discharge port, the client can collect the cuttings by screw conveyor and transfer to cuttings container continuously. The oil on the cuttings in the discharged solids is below 5%, which can meet the environmental protection regulation for land fill. The fluids in the intermediate tank will be transferred to decanter centrifuge for ultra fine solids separation. The vertical cuttings dryer and VFD decanter centrifuge are installed on the same skid for convenient operation and transportation.

The cuttings transfer system including one horizontal screw conveyor and slant installed screw conveyor, or cuttings transfer pump with diesel engine drived, or vacuum pump which is 100% air operated pump to transfer the oil based drilling waste to vertical cuttings dryer system.
For more information, pls contact with GN solids sales.