Abu Dhabi Oil Show is one of the most important oil shows in world, GN Solids America, since its establishment by year 2007, has attended to this event for several times, always took with them the most popular equipments. Some GN customer got to know GN in Abu Dhabi and later visited GN company for further cooperation.
This year, for year 2014, GN also have a booth there, and this time, GN is planning to bring the most popular model GNLW363 Decanter Centrifuge, fixed speed decanter centrifuge with a high speed.
Comparing with VFD Control GNLW363, which shares same series model as the one for oil show, the fixed speed one has its common points and its own features.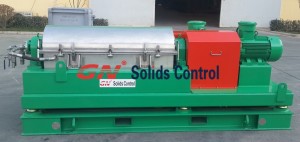 They are in common in those features:
Same bowl diameter: 14 inch diameter, most popular size world widely.
SKF bearings original Sweden. GN always choose best parts for its mud cleaner.
Same bowl material SS2205 for main part of bowl and SS316 for other bowl parts.
Tungsten carbide tiles for impeller protection, better for wearing and easier for later dynamic balancing
Tungsten carbide tiles for solids discharge ports.
Easily adjustable liquid discharge ports
High speed it could reach about 3200RPM.
Able to separate out 2-5microns particles.
……..whatsoever, both fixed speeded and VFD control GNLW363 has exactly same main body of centrifuges.
Why choose fixed speed GNLW363?
A shaker screen is easy to transport and installation. The fixed speed control panel is installed on same frame of the centrifuge. Comparing with the one with a VFD control panel, this one occupies less space.
If the site condition and mud composition is stable and operator clearly knows which speed is more frequently used, it is better for one to choose a fixed speeded model. It also saves the cost for purchasing and later maintenance.
GN Solids America has available several options for this model, and the one for the Abu Dhabi Oil Show will be on sale to customers with sea freight to Abu Dhabi free of charge.