Recently one set of mud cleaner and drilling waste management system with auger transferring system are ready for shipment to international drilling company, they will be installed at same rig site. The equipments list is as below:
Mud cleaner, which is a combination of desander cone, desilter cone and bottom shale shaker, the treating capacity is 1000gpm, the shaker screen installed on the bottom shaker is 4pcs of 585x1165mm shaker screen with 3 layers of stainless steel 316L material wire mesh, the shaker screen is produced comply with API RP13C standard.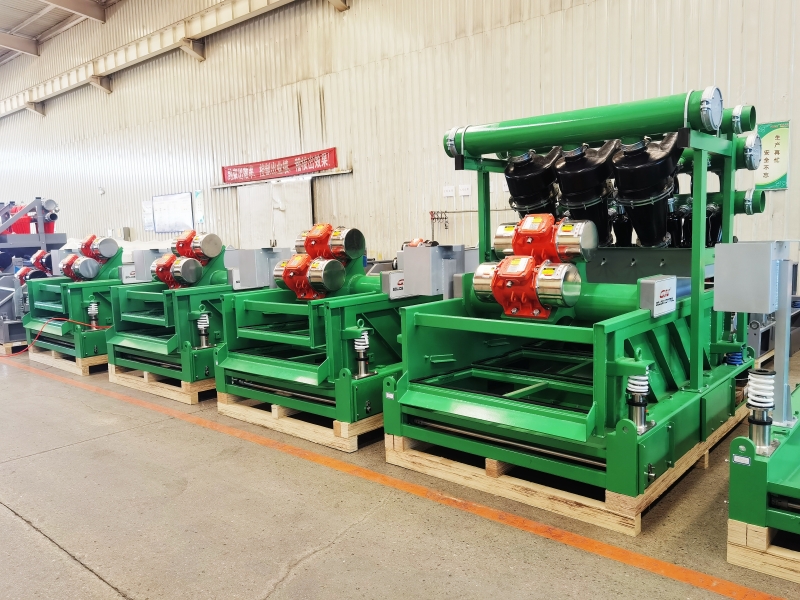 Cuttings transfer system, including 2 units of 12ft screw conveyor to pick up the discharged drill cuttings from decanter centrifuge and vertical cuttings dryer and transfer them to the cuttings collection box automatically. The telescopic skid supporting system is included according to rig layout.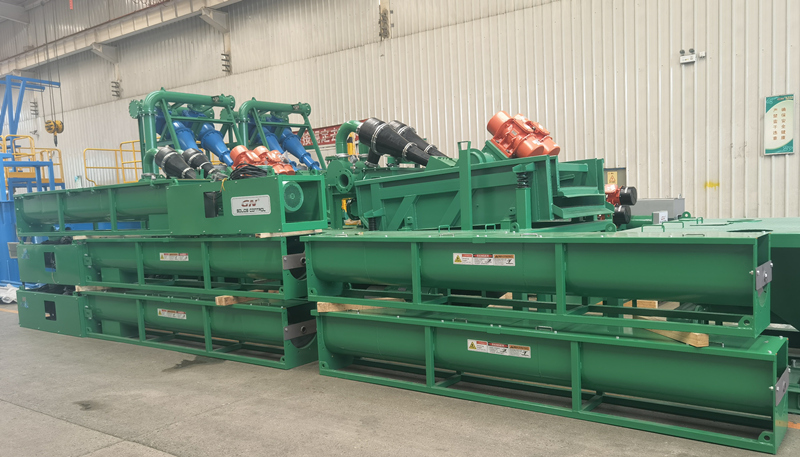 Drilling waste management system, standard design for OBM and SOBM cuttings treatment, including vertical cuttings dryer, VFD decanter centrifuge, flushing pump, centrifuge feeding pump, centrifuge telescopic skid, vertical cutting dryer telescopic skid and fluids collection tank skid, with integral electric control system, accessories.
Vertical cuttings dryer GNCD930 has been widely used to separate coarse solids from drilling waste, the discharged solids discharged from solids outlet port and transferred by screw conveyor to skip, the oil on the cuttings will be normally less than 5%~10% depends on different drilling waste, the recovery fluids will flow to intermediate tank for fluids collection, the centrifuge feeding pump will feed the fluids to decanter centrifuge to separate fine solids, the separation cut point is 2~ 5 microns, the treated fluids can be reused to prepare for new drilling fluids for drilling rig. If it is for final disposal process, we will use oil water separator or dewatering unit to separate it as little solids, oil and water. The water will be sent to waste water treatment facility, the oil be recovered, solids to TDU.