GN solids control will participate the oil exhibition MIOGE next week in Russia, which is the largest oil show in Russian district, this is not the first time for GN to participate this oil show with our exclusive agent in Russia. We will show our core equipments during the show.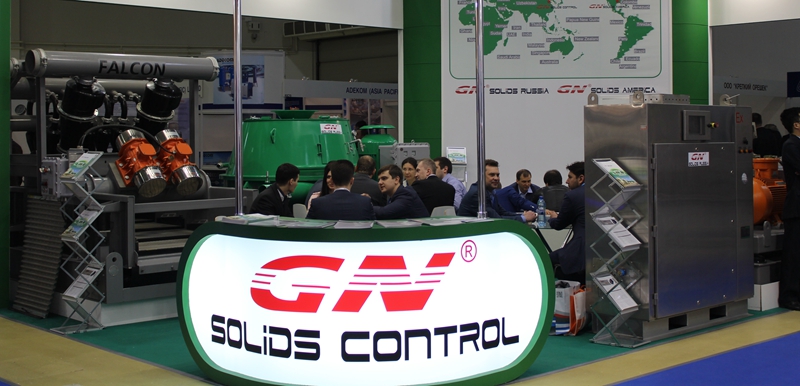 The general information of the MIOGE:
Show Name: MIOGE
Show time: June 27~30th, 2017
Stand No.:A239, hall 3
For more information, pls refer to http://www.mioge.ru
Main equipments showed:
1) Linear motion shale shaker
2) Linear motion mud cleaner
4) Shaker screens, all of them are composite material frame for longer working life compared with steel frame screens, we sold thousands of the replacement shaker screens for other brand shale shaker every month in Russia market.
5) Centrifugal type degasser, different with the traditional horizontal type vacuum degasser, the centrifugal degasser is vertical installed degasser, which needs smaller area to install on the mud tank and easy for maintenance.
During the past years, GN solids control has sold hundreds of these solids control system to our client in Russia, below is the case study for reference:
Solids Control Equipment sent to Russia for 10 Oil Rigs, including shale shaker GNZS593E-HB, decanter centrifuge GNLW363CG-VFD
http://www.gnsolidscontrol.com/drilling-fluids/solids-control-equipment-sent-to-russia-for-10-oil-rigs-there
Customized Shale Shaker and Mud Cleaner Unit to Russia Mud Service Company,
http://www.gnsolidscontrol.com/drilling-fluids/customized-shale-shaker-and-mud-cleaner-unit-to-russia-mud-service-company
Drilling Waste Management system to Russia, The drilling waste management system model No: GNCM-40A, 1 unit of Vertical cuttings dryer: GNCD930C-VFD, Waste management centrifuge: GNLW363CG-VFD, screw pump http://www.gnsolidscontrol.com/drilling-fluids/drilling-waste-management-system-to-russia
Containerized Drilling Waste Management System to Russia, http://www.gnsolidscontrol.com/drilling-fluids/containerized-drilling-waste-management-system-russia
Welcome to visit GN solids control at our stand to know more information.