The trailer mounted mud cleaning system in UK can be used for many different applications, including geothermal drilling, water well drilling, horizontal directional drilling, CBM drilling, all kinds of water solids separation project and construction sludge separation system. The technical configuration is as below: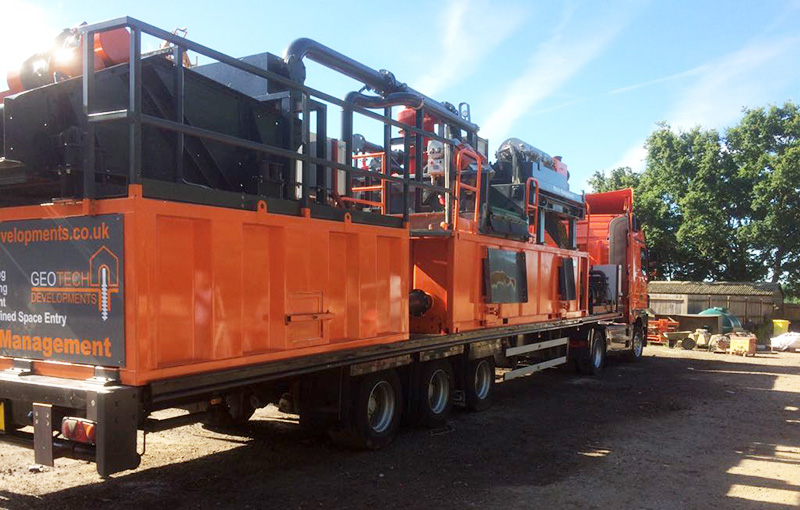 1)    2 mud tanks are installed on the trailer, the total height of trailer plus mud tank system can meet the road transportation limit in Europe. The 2 mud tanks are connected by bottom balance pipeline to keep the mud level in balance and when one mud tank is full, it can flow to another.
2)    The shale shaker, mud cleaner and decanter centrifuge are installed on the mud tank.
The 3 panel shale shaker with 3pcs shaker screens total area 2.63m2, each screen dimension is 700x 1250mm, the composite material frame shaker screen last 20% longer lifetime than previous steel frame shaker screen.
The 3 panel mud cleaner with desander cone, desilter cone and bottom shale shaker, total treating capacity 500gpm. The working principal is as below:
One feeding pump feed the drilling fluids to desander cone inlet pipe, the clean fluids are discharged from the desander outlet pipe and drop into the mud tank. The solids are separated out from the desander nozzle and drop down to the shaker screen, the big solids are separated out from the shaker screen and useful fluids will pass through the screen opening and drop into the mud tank.
Then the desilter feeding pump treat the fluids again by the same way.
High speed decanter centrifuge with separation cut point 2 ~3 microns, the normal working speed is 3200rpm, the max speed is 3900rpm, normally mud recycling system do not install decanter centrifuge, only when after many year operation, the drilling fluids accumulated many fine solids which can not be reused again or when the drilling is finished, the operator need to clean the tailings.