Last Saturday GN solids control sales team attended Quality Development Training and the training get positive reactions between our international sales team and domestic sales team. This is not the first time quality development training between the 2 sales team, our goal is to reach Harmonious team relationships between the 2 sales team and each team member. We totally have 13 international sales, 3 persons for marketing department, 7 person for domestic sales team and 2 persons for foreign employees. Right now the US employees working at GN branch office in USA-GN SOLIDS AMERICA LLC located in Houston. And we have 3 sales engineers working there from China. We have 2 sales engineers working in Russia in our Russia branch company. Since last year our business in Russia keeps growing because their hard working. Totally 17 persons in our sales team attend the training.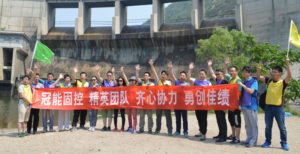 This year GN second new factory start to work, and we plan to produce decanter centrifuge, vertical cuttings dryer, centrifugal pump and shaker screens in that new factory, and only produce traditional solids control equipments and system and fabrication works.
At the same time, GN Houston branch company and Russia branch company keep developing very well. We attend North America largest and most professional oil & gas products exhibition-OTC 2016 held in Houston, TX in May, also we attend the largest oil & gas show in Moscow, we showed our most advance vertical cuttings dryer, VFD decanter centrifuge, Hi-G dryer, etc drilling waste management equipments.