After 40 days manufacturing time, GN hdd drilling mud tank is ready for delivery for Middle East client. When doing some pipelines projects without digging the road, much better for passing vehicles, hdd drilling rig and HDD mud system is necessary. The two sets mud tank system will be used for Horizontal directional drilling contracts from local government, mud tank system including below items:
1) shale shaker.  Shaker is the first stage of solid control sytem. GNZS703 shaker is 3 panel shaker. The 3 panel shale shaker will be used to separate the big solids, or sands from the drilling mud, treating capacity 500gpm. The carbon steel shaker screen is durable for HDD projects, may just require 30pcs to 80pcs shaker screen in stock as per the contracts features.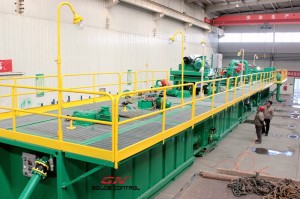 2) mud cleaner. Mud cleaner is the second phase solids control equipment. After treated by shale shaker, the drilling mud will be pumped to mud cleaner by centrifugal pumps.  After treated by mud cleaner, most particles up to 25 microns can be removed. This standard drilling mud without big particles is OK for HDD projects. However, in some special cases or some government project, decanter centrifuge will work as the 3nd stage for further treatment of the drilling mud to make it cleaner.
3) This client also bought one sets middle speed centrifuge with centrifuge skid and feed pump as extra package. We already start the arrangement for the clients and will ship them later with full container for better protection.
Except for mud tank system, GN Solids Control can also offer all line of solids control equipment, from shaker, mud cleaner, shaker screen, centrifugal pump, submersible slurry pump, pit pump, decanter centrifuge, centrifuge feeding screw pump, shear pump, mud agitator, mud gun, mud tanks etc. If you need any solids control equipment, pls contact us freely. We are having OTC oil show in May, 2016. Pls make an appointment if you come to the show.