As every solids control company is trying to take part in oil show to improve product over sea, there will be a lot need consider for prepare an oil show out of China to make a good show there.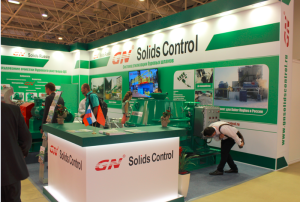 Will you bring equipment to the show? Is it a big machine or small like a part? How long time for prepare the machine and time schedule for delivery including cleaner custom?
How do you delivery the machine? By air or sea? How do you arrange for custom clearance? You delivery goods and stock somewhere over sea? Or you will delivery back after show? How?
Which way is better to save time and cost? How do you manage over sea delivery and stand set up?
What items do you need prepare? What documents or brochures you will bring? Do you need any tools for prepare stand? How to arrange the stand design? Do you need posters? What kind of design?
How to manage storage items? Do you have a partner locally? Or do you need rent a warehouse for keeping the equipment?
How do you arrange lay equipment in your stand? How much cost will happen?
There are really a lot questions need consider and prepare before an over sea oil exhibition , GN Solids is one of the leading manufacturer in China and take part in over sea shows every year like Australia trenchless show , Australia mining show , OTC America exhibition , Moscow oil show , Canada trenchless show , etc. . All these show gives good promote of GN Solids Control by a good prepare of the show.
Related Arciels: