Recently, GN Solids Control, the first API certified Chinese solids control company, has delivered to CNPC 5 sets of vertical cuttings dryers, and those vertical cuttings dryers will go to work in Algeria in Africa together with the service projects with CNPC.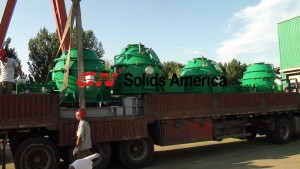 CNPC is the TOP oil company in China, ranking at leading place among the global top companies also. CNPC has projects and oil fields not only in domestic China, but also all over the world, like in South America, Africa and Middle East. GN Solids Control provides equipment and mud recycling systems to their domestic subsidiaries some times, like this order. And also, when CNPC are doing project outside China, some of their contractors are also GN Solids Control's clients.
GN Solids Control is the first China solids control company who designed the vertical cuttings dryer, and each year GN engineers improved the design of vertical cuttings dryer. In March, CIPPE Oil Show in Beijing, GN showed the 4th generation vertical cuttings dryer. with higher rotating speed and larger G-force. And the useful air knife design, helps the screens from blocking.
With a higher rotating speed and some necessary designs for avoiding blocking for screens, enables GN's vertical cuttings dryer to have special advantages, which is that, it is not only suitable for OBM and SBM, but also fit the WBM which normal vertical cuttings dryers can not do. It just meet the recent request of some new drilling practices. In order to save cost and reduce the bad effect on environment, at the shallow level they use water based mud, and for deeper level, they use oil based mud.
In this case, the end users don't have to change new equipments to do the waste management services, only one waste management is enough for the complete drilling procedure. It has been well proved and receiving good feedbacks even from Baker Hudges and Shell.
Related Arciels: