This week GN solids control shipped 2 sets of containerized drilling waste management system to Russia client, totally we have over 10 units of such system working in Russia, the unique design is because of the low temperature in Russia area. The container with heating material to keep the equipments warm and can work smoothly, otherwise the equipments will stop working or damage the explosion proof motor when the temperature is lower than – 40℃.
The main equipments of the drilling waste management system for oil based drilling waste is vertical cuttings dryer, also called vertical G dryer. The other equipments list including: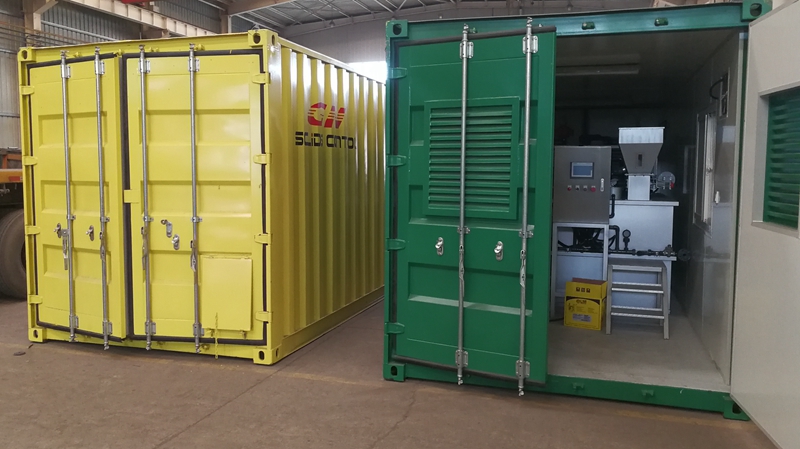 40ft standard container with door and windows
Flushing pump for vertical G dryer
Mud recycling tank with mud agitator
Centrifuge feeding pump (10HP positive displacement pump) to feed the collected fluids to the decanter centrifuge which is installed outside the container.
The screw conveyor to transfer the discharged solids from the vertical cuttings dryer to cuttings collection box
And other accessories inside the container, like washing platform with clean water pipeline connecting port and cabinet for tools and small wear parts storage.
GNLW363CG-VFD decanter centrifuge is the most popular model centrifuge to equipped in the drilling waste management system with max treating capacity 40m3/h, normal working capacity The vertical cuttings dryer can be fixed speed to keep the smooth working speed and G force, but the decanter centrifuge must be variable frequency drive with positive pressurized VFD control panel, the inverter brand is world famous brand ABB, the other electric components are Schneider, Simens, etc.
The decanter centrifuge collection box material is SS304, the bowl material is made by centrifugal casting of duplex stainless steel 2304, which is much better than SS316L.
If you need such customized design drilling waste management system, pls contact with GN solids control.