GN solids control shipped one unit of compact solids removal unit to our international client for core drilling in mining industry. This is the 3rd unit of solids removal unit in that area since the last shipment in July, 2015. The client who bought 2 units of solids removal units gave us some feedback and suggestion, we welcome our customers to give us comments to improve ourselves. We made some amendment and improvements according to their suggestions.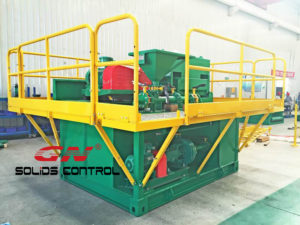 The updated design of solids removal unit is more compact compared with before, the complete design is only 2800x2100x2477mm, which can be shipped by 20ft standard container for sea freight. The 7.5HP centrifugal pump is as a multi function pump for both feeding the centrifuge and mixing. This is to save area and cost for the total unit. The special designed return back pipelines is considering the flow rate of 7.5HP centrifugal pump is bigger than the mini decanter centrifuge treating capacity, if feeding too much, the centrifuge will be easily blocked, the excess fluids should be return back to the mud tank by pipelines.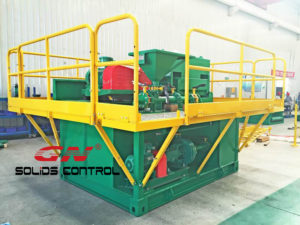 The stainless steel material mixing hopper is to prevent the hopper from corrosion. The mini decanter centrifuge is the specialized model for core drilling waste water cleaning, because the water cost is very expensive, by using GN solids removal unit, the client can save lots of water consumption and save drilling cost. The 2 panel shale shaker is a mini equipments for the 1st phase cleaning of solids removal, the treating capacity is much bigger than the decanter centrifuge, because there might be a lot of big cuttings from the core drilling , which will damage the centrifuge and influence the performance of the centrifuge, so the 1st phase cleaning is very important.
For more information of GN compact solids removal unit, pls contact with GN solids control.