GN solids control became IADC membership now after certified by ISO & API, CE ( for decanter centrifuge), HSE,etc. IADC was committing to improving safety, advancing drilling technology, striving for reasonable regulation and legislation, and enhancing the training and education of technical and management personnel.IADC full name is International Association of Drilling Contractors, for more info, pls check http://www.iadc.org/ .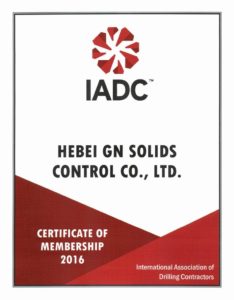 GN solids control main equipments including:
1) solids control equipments, including shale shaker, mud cleaner, desander, desilter, vacuum degasser, decanter centrifuge, mud agitator, mud gun, mud hopper, centrifugal pump, mud gas separator, flare ignitor, mud mixer, shear pump, jet shearing device
2) drilling waste management , like decanter centrifuge, vertical cuttings dryer, Auger, dewatering unit, cuttings solidification / stabilization unit, TDU
3) mud recycling system for HDD, CBM, Geothermal, water well drilling, tunneling, piling
4) shaker screens, hydrocyclones
5) Industry decanter centrifuges for food, chemical, dredging slurry separation, waste water
The following companies will be IADC membership:
1) Oil & gas drilling contractors/ drilling company
2) Oil company (government owned/ private owned)
3) Drilling rig manufactures
4) Drilling tools, drilling rig equipments manufactures, including solids control equipments supplier
5) Oilfield service company
6) Drilling fluids supplier
7) And others
Since 2009 we started our first exportation business, we always keep improving our equipment's design and quality, to make it more user friendly and safety operation.
For example, for decanter centrifuge, we improve our design of collection box Pneumatic spring, only one operator can open the collection box top cover easily and safely. And for the main motor and back-drive motor protection cover, no leakage and area will damage the finger of the operator.
For vertical cuttings dryer, there is windows for watching after the vertical cuttings dryer stopped working. And oil lubrication system is inter-locked, the oil lubrication system will start firstly then the dryer starts.