Recently GN solids control start to apply our decanter centrifuge for industries except for oil & gas drilling, constructions industry, for example, industry waste water treatment, oil tank bottom cleaning, solids waste treatment, etc.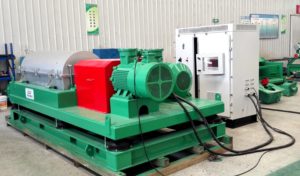 GNLW553C-VFD big bowl decanter centrifuge with dosing system can be used for industry waste water treatment. We have 3 models decanter centrifuges can be used together with dosing system. GNLW363CG-VFD is with 14inch bowl decanter centrifuge, which is the most popular model. GNLW453C-VFD is the 18 inch bowl decanter centrifuge, it is the middle model. GNLW553C-VFD is with 22 inch diameter big bowl which is the biggest model decanter centrifuge.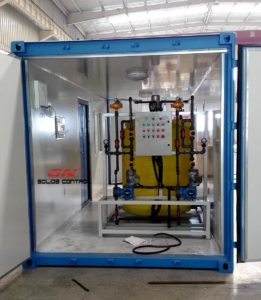 The dosing system is installed inside a 20ft container, with lights, windows, doors, air conditioner, etc, for convenient operation and transportation. To reduce the total cost of the dosing system, the dosing system with only a polyurethane material mixing tank and 2 dosing pump with electric control panel. The VFD control panel is not same configuration with oilfield explosion proof VFD control panel, it is a low cost special designed for non explosion proof applications, for example, TBM, dredging slurry separation, sewage water treatment, etc. The non exploson proof VFD control panel is also PLC smart control and touch screen, but the cover is not full of stainless steel material.
GNLW553C-VFD decanter centrifuge with max treating capacity is 110m3/h, for oil & gas drilling fluids is 90m3/h, working with dewatering unit is 40m3/h. The separation cut point with dosing system is one microns, after most of the solids is separated out, the waste water will be sent to water treatment facility for checmical cleaning, the final result is to drain the non hazardous clear water to river/ lake/ sea.
If you need an economic solution for waste water treatment, pls contact with GN solids control sales engineer.