This week GN solids control shipped 2 units of chemical dosing system with 2 big bowl big volume decanter centrifuge to our Singapore Clients for TBM waste mud treatment. This is not the first time for GN to ship such dewatering unit to Singapore for TBM waste water treatment project, several years ago we shipped another unit of containerized dewatering unit with decanter centrifuge installed inside 20ft container for convenient shipment, operation and rain proof.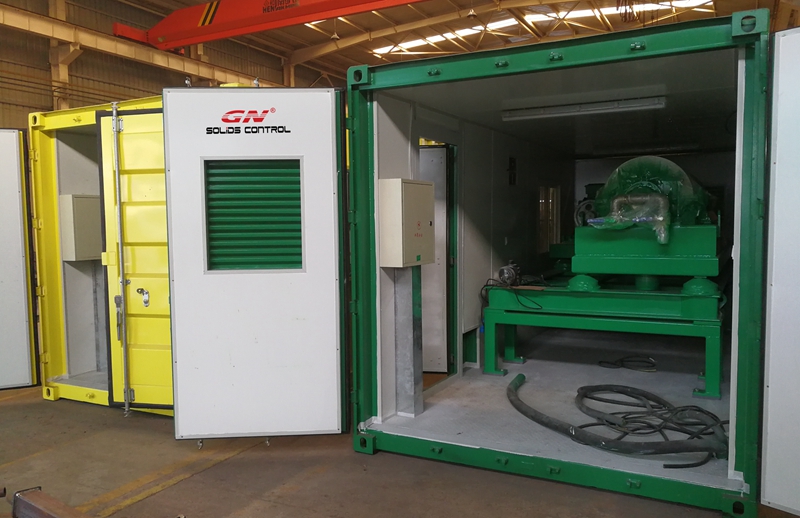 GNLW553C-VFD decanter centrifuge is a 22 inch bowl diameter centrifuge, this is not the largest centrifuge GN can produce, we also have GNLW764-VFD with 30 inch bowl diameter centrifuge, it can be used for Tunneling project when huge amount water/ sludge is required for the operation.
The chemicals are added in the chemical dosing system and mixed, then the dosing pump will transfer the chemicals to the decanter centrifuge feed tube, the chemicals will be added to the waste water/ waste sludge from the TBM and after treatment, the ultra fine solids will be separated out from the waste water so they can be reused for the TBM operation. The centrifuge mechanical separation cut point is 2~5 microns, if most of the solids inside the waste water is smaller than 2 microns, it is hard to separate out them, you have to add flocculant to make them flocculation and easy to be separated by the high speed decanter centrifuge.
If you have requirement to treat the waste water from TBM, pls contact with GN solids control.