GN solids control is one of the leading manufacturer for industry solids-water separation unit in the world, our mud recycling system/ water recycling system has been sold to over 60 countries in the world. Dredging slurry separation unit is one of our main products for environmental service, we also produce desander unit for pilings, water recycling system for TBM or pipe jacking machine, mud cleaning system for HDD and water well drilling, our solids control equipments and system are also used for oil & gas drilling applications.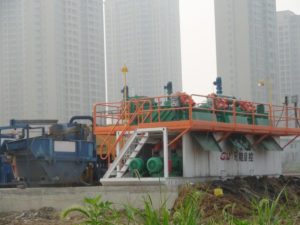 The common process for dredging slurry separation system is as below:
Firstly received the sludge from the dredger which is mixed the water, stones, rubbish and fine solids and transfer the sludge from the dredge boat to GN dredging slurry separation unit by pump. We will use coarse mesh screens( polyurethane shaker screens for longer working life, especially suitable to separate big solids like stones, bricks, tree branch,etc) to separate big solids firstly, the purpose is to protect the equipments in the further process and improve the efficiency of the complete system.
We will use multi shale shakers because most of the dredging projects need a very big treating capacity. In the second step we will use fine mesh screen to separate fine solids, sometimes we will use desander cone and desilter cone with centrifugal pumps as feeding pump, but the cones are only as option, because of the high power consumption.


After treated by the fine mesh screen or desilter cone, theoretically speaking, most of the solids bigger than 20 microns has been separated out, and the solids can be exposed under the sun and use a truck to transport them for land fill. If you want to get more clear water, decanter centrifuge will be considered as the final stage equipments, sometimes with dewatering unit, it depends on how clear the water you required. The centrifuge treating capacity will be reduced with dewatering unit.
Pls inquiry GN if you need the dredging slurry separation unit.