Right now we have one set of oil based drilling waste treatment system in stock in China, which is brand new and produced in 2021.10. If you need one set of drilling waste treatment system and prefer stock items, pls contact with GN solids control. The system including one unit of vertical cuttings dryer, one unit of VFD decanter centrifuge, one set of vertical cuttings dryer flushing pump, one set of decanter centrifuge feeding pump, one set of fluids collection tank and all the equipments will be installed on the tank skid for convenient transportation. The whole system with explosion proof electric control system and control panel.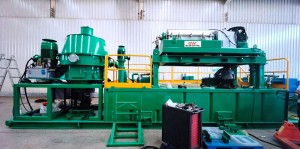 To control the drilling waste, there are "4R" to be pay attention to, such as Reduce, Reuse, Recycle, Recover. Obviously, Ruduce is to reduce the drilling waste by using better performance solids control equipments, such as shale shaker, desander, desilter ( mud cleaner), the better of the solids control equipments working, the less drilling waste will be generated, so the further treatment, disposal cost will be reduced a lot.
Reuse is to reuse the drilling fluids which are treated by solids control equipments, which will reduce the generated waste and reduce the treatment cost.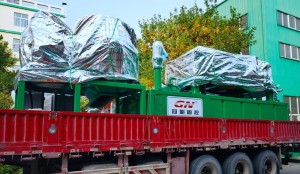 Recycle is to use the drilling waste treatment system (oil based) to recycle more useful oil based drilling fluids, and prepare for new drilling fluids. The vertical cuttings dryer can reduce the oil content on the cuttings below to 5% if the drilling cuttings is fresh and come from primary shale shaker. The fluids will flow to fluids catching tank and the decanter centrifuge feeding pump will feed the fluids to decanter centrifuge to separate the fine solids from drilling fluids, the discharged drilling fluids from decanter centrifuge can be recycled and reused to prepare for new drilling fluids.
Recover is the last step, to get the recovered hydrocarbon, it is not suitable to reuse the drilling fluids, it can be collected as fuel oil.