Shale shaker deck angle adjustment is one of the important operation for shale shaker usage. As a professional shale shaker manufacturer in China, we can produce linear motion shale shaker and dual motion ( linear motion and balance elliptical motion) shale shaker for oil & gas drilling mud cleaning system, we can produce single layer and double layer shale shaker, also we have 2 panel, 3 panel, 4 panel, 5 panel, 6 panel shale shaker with different treating capacity for different applications, also we have drilling fluids cleaning shale shaker, oil sludge shale shaker, ViST shale shaker, mining screen ( including stack vibrating screen, mining vibration screen, high G fine vibrating screen, double deck linear vibrating screen, etc), also we produce equipped shaker screens by GN own workshop which produced compliant with API RP13C standard.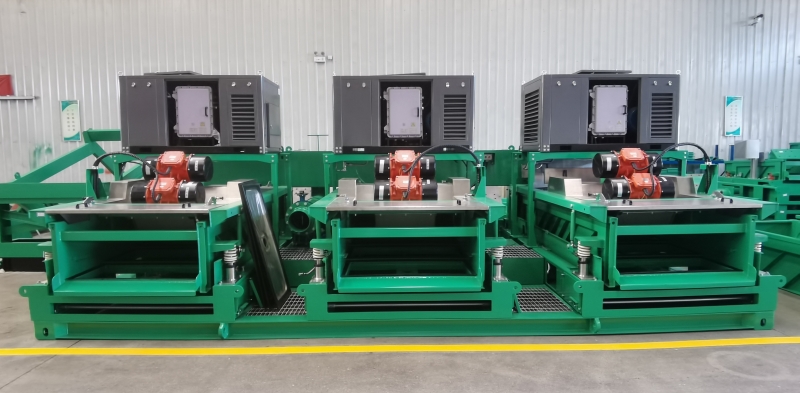 There are 2 types shale shaker deck angle adjustment method, one is electrical, one is mechanical, the deck angel adjustment is according to the drilling fluids solids size, density, feeding capacity, drilling fluids type, shaker screen type and mesh size, normally it is adjusted according to the user's experience. GN shale shaker deck angle can be mechanically adjusted synchronously at both sides, it doesnot need 2 persons to operate the shaker at the same time, one person can do the work from one side, he can adjust both sides synchronously.
The tools to adjust the deck angle is ratchet wrench, which is stock in the tool box when delivery.


The operator holds the ratchet wrench and causes it to rotate to drive the lead screw elevator. The lead screw of the lead screw elevator drives the 4 lifting tube assembly to rise or fall, and the lifting tube assembly stops rotating when it reaches the ideal position. Through the above operations, the user can choose an appropriate angle for production based on the on-site mud performance and flow rate.