As a manufacturer of solids removal unit in China, GN produced solids control/ removal unit has been widely used for mineral engineering projects. More and more clients start to realize that the solids removal unit's usage will take a lot of advantages to the users.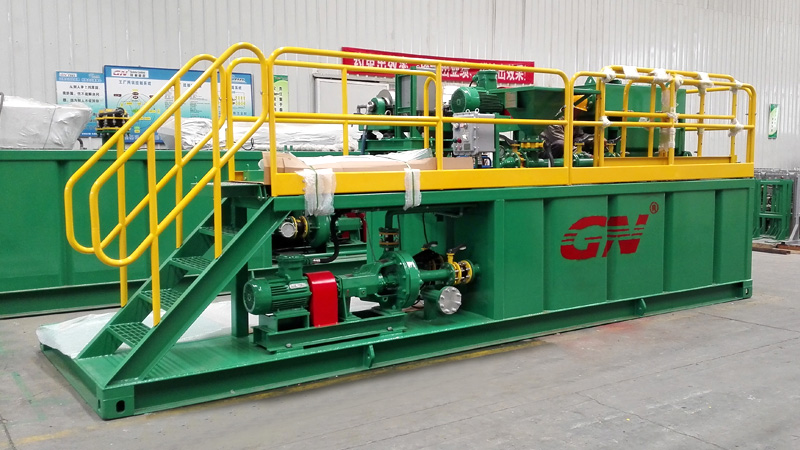 The Solids removal unit will reduce the water consumption and reduce the drilling cost significantly
The solids removal unit will reduce the wear on drill components and protect the drilling rig, it will extend the drilling rig service life effectively
The solids removal unit can reduce the drilling waste and lower the waste disposal cost and environmental management cost
Anyway the investment on the solids removal unit will be another consideration compared with the direct cost savings and potential cost savings, it is not easy to clear the potential cost savings. The client may select to rent the solids removal unit for a short term project, for a long term mineral projects, to buy a solids removal unit is an economic way.

GN Solids Removal Unit including fluids picking up pump ( it will be installed in the mud pit vertically to pick up drilling fluids from mud pit to shale shaker), shale shaker( to removal coarse solids and reduce solids content to let the drilling fluids suitable to be treated by decanter centrifugue), decanter centrifuge ( mechanical separation cut point is 5 microns) and feeding pump, mixing hopper, mixing pump and mud tank. The clean fluids treated by decanter centrifuge will be mixed with chemicals and pump back to drilling rig. The electric control system can control all the motors and starter of all the equipments. A generator can be installed on the solids removal unit skid as power supply.
For more information of the solids removal unit, pls contact with GN solids engineer.