GN Solids Control can provide customized solution for oil sludge treatment unit, the core equipment is decanter centrifuge, which can separate the fine solids from the fluids mixture, the separation performance highly depends on the working and quality of the decanter centrifuge. When use the decanter centrifuge, the user should ensure that coarse solids are already separated out in case that the big solids will block the centrifuge bowl and the screw will be damaged easily because of high solids content.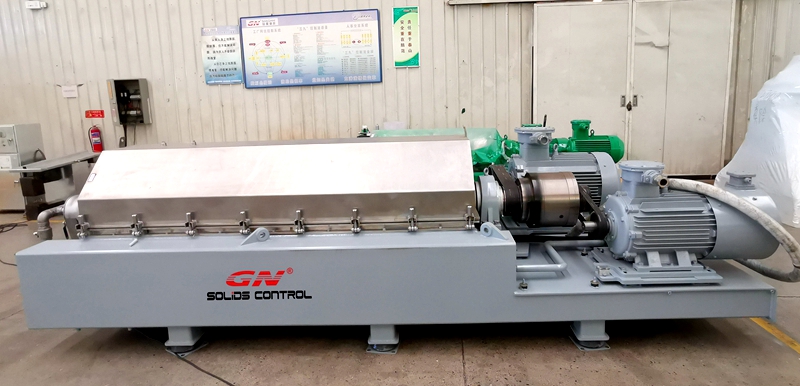 The fluids discharged from decanter centrifuge will flow to a intermediate tank, then to be pumped to three phase centrifuge to separate oil and water. The recovery oil will be storage in a oil tank, the discharged water will be storage in the water tank or reused.
The working principal of decanter centrifuge for solids and liquid phase cleaning:
The oil sludge is feed to decanter centrifuge inlet pipe, and push to centrifuge bowl from screw fluids distribution port by centrifugal force. The oil sludge is rotating with the bowl under high speed up to 3900rpm, the normal working speed is 3200rpm. The centrifugal force is much more higher than gravity. With the great centrifugal force, a fluids ring is generated along with the bowl inside wall, because of the density difference for solids and liquids, the solids is heavier than liquids, which will generate bigger centrifugal force, so it is settled down to the fluids discharge port.
GN big bowl big volume decanter centrifuge GNLW554EP is the ideal model to treat oil sludge with higher treating capacity, the bowl diameter is 550mm, the bowl length is 2310mm, the higher L/D ratio 4.2 will treat the oil sludge better and cleaner. The Netzsch brand screw pump will be used to feed the different material to decanter centrifuge for stable working.