Recently GN solids control shipped 10 units of slurry desanding unit for Piling and TBM. This is our standard GNMS-500D with 500gpm treating capacity, which is consist of the equipments as below: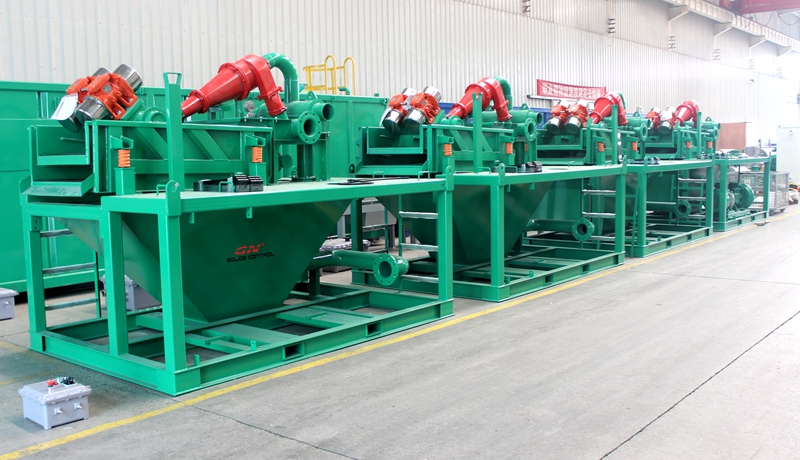 Double deck shale shaker GNZY753F with 1 ea of 10 inch desander cone. It is 2 phase cleaning equipment with shale shaker and desander cone.
The centrifugal pump as desander feeding pump, which is installed on the mud tank. The pump model is GNSB6x5C-12J with 37KW motor.
The compact design mud tank as an intermediate tank to collect the slurry discharged from bottom shaker screen. The inland shipping dimension is 3103 x 1896 x 2441mm. The operation dimension is 3506 x 1896x 3907 mm, the total weight is 2850kg. The total power is 39KW. The upper screen area is 0.875m2, the bottom screen area is 1.35m2. The vibration strength is 7.1G which is adjustable.
The shaker screen is composite material frame shaker screens for longer working life, with effective screen area is 20% larger than traditional steel frame screen area. The conductance is much bigger than steel frame screens. The wire mesh is made of stainless steel 316L material. The storage life is up to 5 years.
The disadvantages of the economic configuration mud recycling system is without mud mixing unit, if the client need to prepare for new drilling fluids with the recovery clean fluids, we will provide separate jet mud mixer( combination of mixing hopper, mixing pump, pipelines, valves and skid) connect with storage tank.
The desanding unit is economic configuration mud recycling system, we also have customized self contained mud recycling system for better separation performance.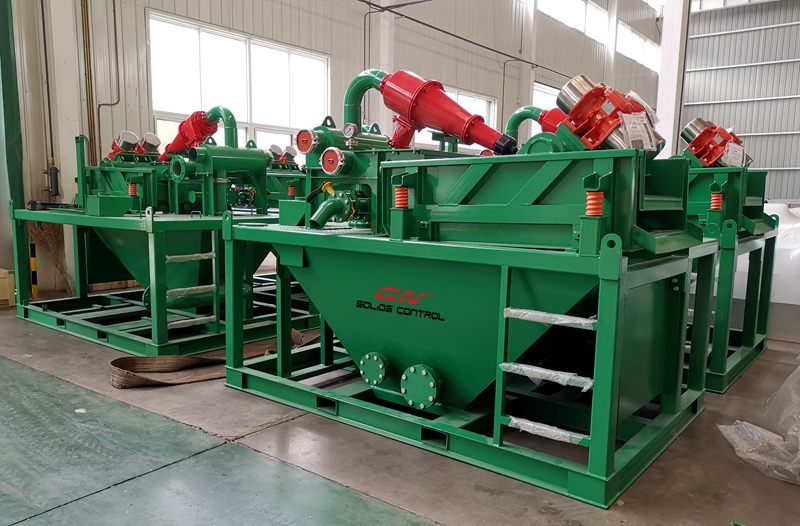 We have GNMS-500B, GNMS-500G, GNMS-500GL mud recycling system for option, with cleaning, storage, mixing multi function. The submersible slurry pump as feeding pump of the mud recycling system from the mud pit to shale shaker.