Recently 2 package of tandem shale shaker are shipped to India drilling company, including the spares and shaker screens with different API mesh size and tool kits. The features of the single shale shaker is as below:
1) Stainless steel material with all the vibration and non vibration components, including shaker deck, vibration beam, shaker screens, shaker deck bottom, etc, which is better for anti corrosion.

2) The sealing rubbers are applicable to SOBM, OBM and WBM, all types of mud, the unique patent design sealing rubbers can extend the working life of sealing rubber, to prevent the mud from leakage and for better sealing performance.
3) The vibration motor is DGMS approved, and also international explosion proof, such as IECEX, ATEX, CNEX.
4) The starter, cables, glands and other electrical components are all IEC explosion proof to meet the local requirement.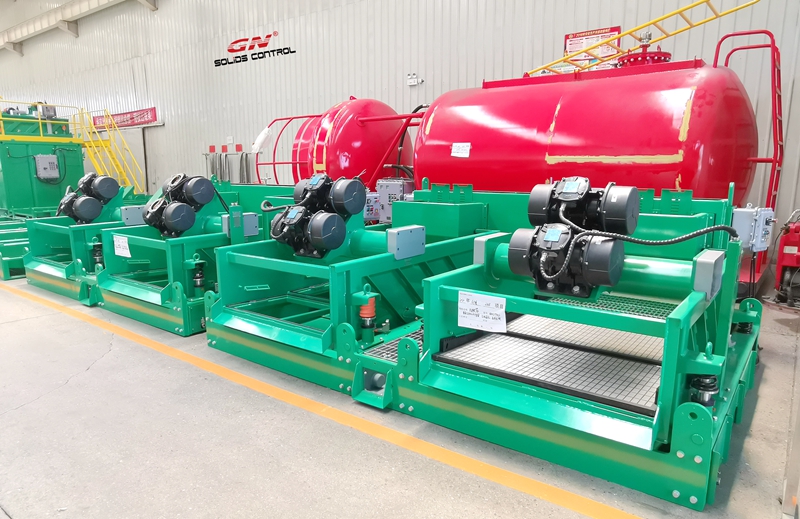 5) The high G force up to 7.5G to ensure the good performance of the separation, the deck angle adjustment by both ends simultaneously is user friendly design, so that the deck angle adjustment can be done by one worker easily without need another person's join in.
6) The shaker screens are all made of composite material frame with SS316L material wire mesh for longer working life, we have passed the API RP13C TPI inspection, all of the screens are produced as per API RP13C standard.
7) The possum belly and tandem shale shaker skid are included, with the connection pipelines from poor boy degasser to trip tank, and the side discharge trough design can allow the drilling waste flows to the specific waste pit directly
We can also make triple shale shaker on one skid with possum belly and pipelines, and the desander, mud cleaner, if you need solids control equipments, pls contact with GN solids control.