There are big potential requirement for tandem shale shaker in India and Indonesia, mainly for oil & gas drilling. The main features of tandem shale shaker compared with single shale shaker is convenient for transportation , easy operation, easy maintenance, and double treating capacity. Tandem shale shaker is the combination of 2 units of single shale shaker and one oilfield three runners skid.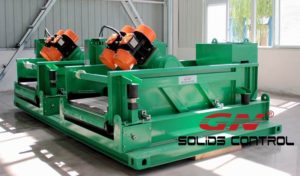 When you need to install 2 units of 4 units or 3 units of shale shaker on the solids control system mud tanks, you can make them as tandem shale shaker or triple shale shaker. When you need to use them separately, you can disassembly them and use them for different mud system.
GN owned different models single shale shaker, 2 panel shale shaker GNZS752E-DM, 3 panel shale shaker-GNZS703E-HB for oil drilling, geothermal drilling, GNZS703E-DZ for HDD mud recycling system, the difference is the buffer box installation position, one is weir feeding and other one is box feeder. 4 panel shale shaker GNZS594E-HB with screen size 585x1165mm.
We can assembly 2 units, 3 units or 4 units of same model shale shaker on one skid according to the required treating capacity.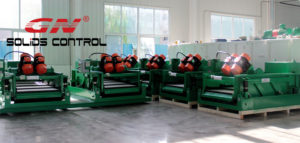 Tandem shale shaker is different with double deck shale shaker, Tandem shale shaker is 2 units of single deck liner motion shale shaker. The double deck shale shaker is one unit of shale shaker with 2 layers screen deck, each deck with 1pc or 2pcs or 3pcs shaker screens.
Not only shale shaker, we also produce shaker screens, centrifugal pump by GN solids control in our second new factory. The new factory focus on manufacturing of decanter centrifuge, vertical cuttings dryer, shaker screens, centrifugal pumps. Our other solids control equipments are produced in the first new factory, including shale shaker, mud cleaner, mud tank, desander, desilter, mud gas separator, vacuum degasser, mud agitator, mud gun, etc.