GN solids control showed our Piling & TBM desander unit and GNLW223 mining centrifuge at no-dig show held in Beijing, China last week, the exhibition full name is 2016 China international Trenchless Technology Conference , which is held in on Oct. 10~ 12th, 2016 at the Agriculture Exhibition Hall in Beijing. Our stand No. is 128, which is next to Famous brand HDD machine manufacturer Goodeng and Vermeer.
We showed 2 products at the show:
(1) Piling & TBM desander unit GNMS-200D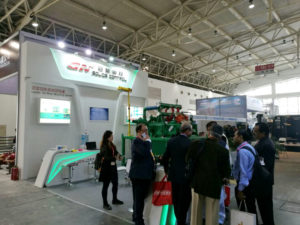 The treating capacity is 50m3/h with compact design for transportation.
The Desander unit is composed of double deck shale shaker with 4 units of desilter cone, the separation cut point is 20 microns, desilter feeding pump, catching tank, pipelines, lighting, electric control system, handrail, stairs, etc.
The desander unit can be applied to bored piles, Tunneling, small HDD projects. Normally we called it economic mud recycling system, sometimes clients will use a storage tank and a mixing hopper together; to make all the equipments as skid mounted mud recycling system, we called it self-contained mud recycling system with recycling, mixing, storage triple functions.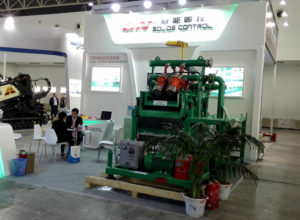 (2) GNLW223 mining decanter centrifuge
It has been widely used for mining diamond core drilling waste water recycling, the purpose is to reduce the water consumption, reduce the solids disposal cost, reduce the total drilling cost to save money for the client. The max speed for the mini centrifuge is up to 5000rpm.
Sometimes clients will use decanter centrifuge after the mud recycling system to separate the clays from the drilling fluids after a long time drilling, when more and more fine solids are accumulated in the mud, for this reason, the fluids can not be re-used until most of the fine solids are separated out.
Thank you for coming to our stand and welcome to send us your inquiry for no-dig mud recycling solutions.