Brief introduction:
Become warped mounted drilling mud system is my company specialized in order to adapt to the mud configuration of ZJ30 drill design, manufacture, purification, the circulation of the supply system.
ZJ30 drill can be drilling mud system classification processing, at the same time can also to blend, compound, mixing mud. This set of systems by the mud tank, elevated mud manifold, mud distributor (logging pool);Drilling fluid shale shaker, the mud cleaner, drilling mud, mud decanter centrifuge; Liquid gas separator, mud mixing system, shear pump suction slurry system, the system of mud mixed, the mud barrel sinks, water supply pipe (electric control system, lighting system), etc.
ZJ30 drill solids control system using multiple functional design, making the system can meet the different depth and different use requirement of the mud cleaning system. All systems and processes can work independently, can also be used at the same time.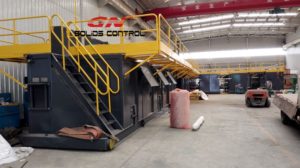 Become warped type sludge treatment system
Second, the system composition and process design.
ZJ30 drill solids control system is a set of mechanical and electrical control of sludge treatment system, this system is mainly composed of a sand collector (including logistics module), a circular tank, 1, 1 set of liquid gas separator supply pump SB4 2 x 3-11-11 KW, GNZJ703 GNZS703 linear vibrating screen, 1/2 x 10 + 12 "x 4" in addition to the sand silt cleaning machine, 1 GNLW452S decanter centrifuge JBQ15kW mixer, 1, 4 sets SLH150-50 jet slurry device SB8 x 55 KW, 6-11.5-2 sets SB8 x 6-11.5 sand pump 55 KW (respectively to desander and desilter powered), 4 NJQ50-3 mud gun, and lighting, aisle guardrail, etc.
ZJ30 drill solids control system design features of several important processes, to grading of drilling mud, in accordance with the requirements of drilling technology through the overflow groove mud circulation.Can also be used for mud aggravating, mixed, stirring. Clear water pipeline in the clear water pipe connection can provide water for the mud circulating system; Mud configuration system can be mixed for mud solid control system, supplementary; Supply tank and the supply system for well mud defect to supplement;Mud gun pipeline and mud mixing system can be fully mixing the slurry tank mud and mix.