GN solids control designed and produced slurry separation system has been used for traditional oil & gas drilling solids control system and HDD & CBM, water well drilling, it has been also used for dredging slurry separation, TBM slurry separation, bored piling, liquid mud plant, core drilling solids removal unit, industry waste water treatment.
Dredging slurry separation system is usually used together with dewatering unit with dewatering centrifuge, GNLW363CG-VFD, GNLW453C-VFD , GNLW553C-VFD decanter centrifuges are the most common models used for dewatering unit.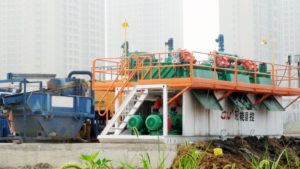 The working principal is as below:
1) Filter screen to separate big stones, solids before feeding to our slurry separation system, to protect the first phase cleaning shaker screens, so the working life of shaker screen could be longer.
2) Use submersible slurry pump to feed to the shale shaker with coarse mesh shaker screen, to reduce the solids content, separate the big solids, the cut point is API40 @ 420 microns.
3) Desander cone 10 inch as second phase cleaning equipments to separate solids up to 75 microns, centrifugal pump works as desander cone feeding pump
4) Desilter cone 4 inch as the third phase cleaning equipments to separate solids up to 20 microns, centrifugal pump works as desilter cone feeding pump.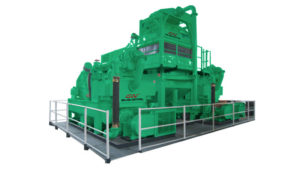 5) For Most of the projects, desilter cone is enough for the applications, but for some projects with much clays, decanter centrifuge with flocculation will be used to separate fine solids up to 1 microns. So that most of the solids bigger than 1 microns will be separated out, the discharged water will be very clear.
The dewatering unit could be a lot of options, with flocculation mixing device or coagulation mixing device, everything installed inside 20 feet container or nude on the skid.
If you need dredging slurry separation solution, pls contact with GN solids control.