GN solids control finished the exhibition of ADIPEC this week, we showed our decanter centrifuge and shaker screens this year, this is the third time for GN solids control to attend this exhibition and every year we received inquires from lots of clients.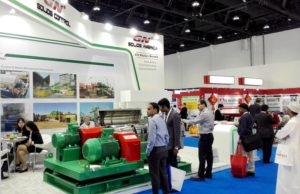 GNLW363CG decanter centrifuge is the best sold centrifuge during the past years after we introduced advance production line. This 14 inch diameter bowl centrifuge has been widely used for drilling solids control system, drilling waste management system( together with high G dryer and vertical G dryer), dewatering unit, oily sludge treatment plant, waste water cleaning system.
Different with the previous clients, right now most of GN clients are from drilling waste management industry. GN decanter centrifuge together with our containerized dozing system are popular to treat the water based mud by adding polymer, flocculant or coagulant, the discharged water is clear enough for disposal or go to the water treatment plant, the solids can meet the disposal standard for landfill or injection.
Features of GNLW363 series decanter centrifuge is as below compared with other brand decanter centrifuge made in China: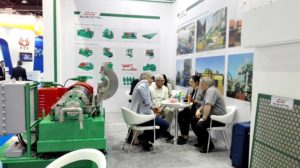 1) Screw conveyor is protected by tungsten carbide tiles( interchangeable)
2) Solids discharge port and liquids distribution port is protected by special ceramics insert and it is replaceable.
3) Centrifuge bowl material is duplex stainless steel 2205 by centrifugal casting.
4) We can provide telescopic skid frame or mud tank to fit the centrifuge on it.
5) The bearings are SKF brand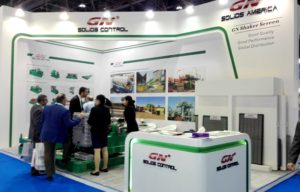 6) The vibration sensor, heat sensor and over-torque protection is for option to protect the centrifuge, our standard protection is installed inside the VFD control panel, emergency stop button is installed in the obvious area.
If you are interested to buy the centrifuge we showed at ADIPEC, pls contact with GN sales engineer for the cost and delivery time.