As one of the most professional designer and manufacturer of decanter centrifuge in China, GN solids control produced high speed decanter centrifuge and VFD centrifuge have been widely used for WBM, OBM, SOBM drilling waste management, oil & gas drilling solids control system, dewatering unit, oily sludge treatment plant, waste water treatment, mining, etc applications. All of our decanter centrifuges are electric motor and control panel drived, now we have full hydraulic drive decanter centrifuge to meet some client's requirement when electricity is limited in some areas.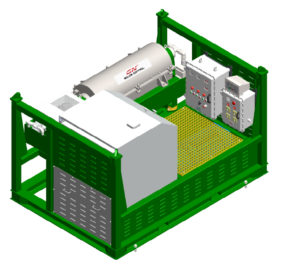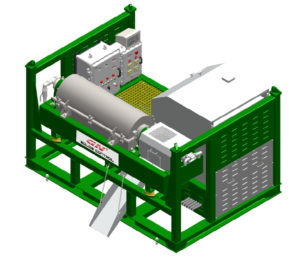 The mechanical components are same with the electric drive decanter centrifuge with features as below:
1) screw protection: tungsten carebide tiles for longer service life
2) Bowl material: duplex stainless steel 2205 from centrifugal casting and stainless steel 316L
3) Bearing brand: SKF brand
4) Solids discharge port & fluids distribution port protected by special ceramic insert interchangeable for conveneint maintenance
5) Control system with PLC smart control, especially for the monitoring and safety system: There are monistor for oil level shutdown, temperature alarm, manometric, etc. For safety operation.
6) Full Hydraulic drive system can smoothly work at high temperature environmen without problem, especially for heavy mud treatment
7) Heavy duty Gearbox with high torque up to 4164N.m.
GN solids control produced 363 series,453 series, 553 series decanter centrifuge has been widely used and approved by our clients domestic and abroad because of the high performance and economic cost, we have 9 inch bowl( mini centrifuge), 14 inch diameter bowl, 18 inch bowl, 22 inch bowl, even 30 inch bowl with different size and different treating capacity for choose. Now we have the full hydraulic drive decanter centrifuge which is completed the full 363 series: GNLW363CG, GNLW363CG-VFD, GNLW363D-FHD, GNLW363CD, GNLW363CD-VFD ( economic configuration). Welcome to contact with our sales engineer for more information.