At beginning of this month, GN has got an order for 2 sets of solids control systems for 1000 HP rigs which will be working in a middle east country, and the end user is a national owned drilling company in that country.
The 2 drilling rigs now are in USA, under fabrication, and the ordered solids control systems will arrive to the rig jobsite at same time when the rigs are ready. "It is a landmark and a great change of my company", said the general manager of the drilling company, "because before knowing GN, all of our rigs and equipments were all from USA. GN Solids Control is the first China brand we use, and these solids control systems are only the beginning, but not the ending."
This 1000HP rig solids control system contains following equipments: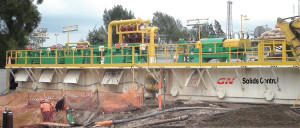 1. main equipments:
2 sets of shale shakers GNZS703E-HB, linear motional, with 3 pcs of screens and vibrating G force up to 7.5 G.
1 set if vacuum degasser before the mud cleaner.
1 set of mud cleaner GNZJ703E-2S12N, same under flow shaker as shale shaker in 1st step separation, and polyurethane material cyclones 2 desander cones of 10 inch diameter, and 12 desilter cones of 4 inch diameter.
1 set of middle speed big bowl decanter centrifuge GNLW452C fixed speed with 1800RPM, for barite recovery.
1 set of high speed decanter centrifuge GNLW363CG fixed speed for fine particle cuttings separation.
2. auxiliary equipments:
16 sets of GNJBQ110DD double impeller mud agitators.
16 sets of GNNJQ80A-3X mud guns.
2 sets of GNSLS35A mixing hoppers
5 sets of GNSB4*3-13J centrifugal pumps respectively for feeding the desander and desilter cones of mud cleaner and the mixing hoppers.
2 sets of submersible slurry pumps for feeding the middle speed centrifuge and the high speed centrifuge.
" After those 2 sets of solids control package from GN Solids Control, China, matching for the 2 USA made Rigs, we may consider next rig from China also. It is pleasant experience to deal with GN." Said the drilling company's General Manager.
Related Arciels: