Shale shaker is the first stage machine to clean drilling fluids out from wells, indispensible both in a solids control system for oil and gas and mud system for other kinds of drilling. Driven by dual motors, GN shale shaker is liner motion with adjustable G force max to 7.5 G. After treated by the shale shaker, the drilling fluids will be further treated by desander, desilter, mud cleaner, decanter centrifuge to keep it clean enough for recycling usage.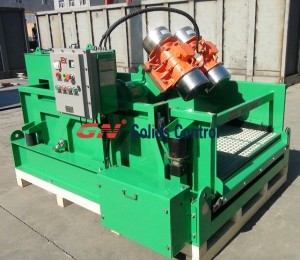 Normally, a shale shaker contains below main parts:
The vibrator motors are attached directly to the screen frame and positioned over the screening bed to maximize the G-forces transferred to the screen surfaces. Float mounts isolate the vibratory motion of the screen frame from the support structure. Screens are fixed on the screen bed by wedges ,which is much easier to operate and improve work efficiency. The adjustable while drilling (AWD) mechanism is achieved by one electric motor that allows adjustment of the screen bed angle between -1°and +5°(The two-panel shaker deck angel is fixed at +2° ).This combination of features maximizes the fluid-handling and solids-removal capabilities of the machine.
The drilling fluids from mud return line of the drilling rig feed into the buffer box, then over flow to the shaker deck and shaker screen. The shaker motor motivate the fluids flow from one side to the other side of the shaker. While moving ,the fluids will down the screen to the collection box and the cuttings are discharged at the other end of the shaker. What's more, the desander cones, desilter cones, or both of them can be added into the shale shaker installed on a frame fixed over the shale shaker. According to the quantity of cones, different models of shale shaker will be selected as underflow shaker.
Related Arciels: