Centrifugal pumps are also called sand pumps. They are used as a very important devise for transporting drilling mud from one place to another. In oil and gas drilling industry, sand pumps are used for feeding the desanders and desilters, and also used for jet mud mixing system for feeding the hopper drilling mud.
Depends on the requested capacity, the sand pumps are designed in different capacities for different applications. Normally, in a same solids control system, the centrifugal pump for feeding desander and desilter are of same model. Like GN's model, in the model code, you could find the main specifications of inlet, outlet and impeller.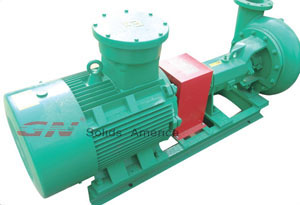 In the standard layout, the first equipment is shale shaker, and the second is degasser. The degasser is used to delete the gas bubbles in the drilling mud, therefore, it also helps to improve the efficiency of the centrifugal pumps and protect them as well. After the solids control centrifuge, comes the jet mud mixer system. The centrifugal pumps are also used as mixing pumps for mixing hoppers.
A good centrifugal pump with a long service life is decided by several factors: the reasonable design and the good material. GN Solids Control is China leading manufacturer of solids control and waste management systems and equipments, together with GN systems, GNSB series centrifugal pumps were sold to more than 60 countries and regions in the world. And for GNSB centrifugal pumps, they are using stainless steel mechanical seals for a longer service life.
Besides centrifugal pumps, GN also has submersible slurry pump, screw pump, shear pump and etc available. Those pumps are used for feeding the solids control equipments in a system, like the centrifuges, shearing jet mixer, or to transport mud from mud pit in cases of HDD or CBM or Piling. In a word, GN could provide high quality turn-key solution for solids control and waste management systems for the end users.
Related Arciels: