Recently GN solids control is going to ship one set of oil sludge waste treatment system to Africa for a oilfield service company. The oil sludge waste is coming from crude oil tank cleaning, refinery, solids control drilling waste, etc. GN drilling waste management equipments are also using in South America for oil sludge waste treatment system for the same applications.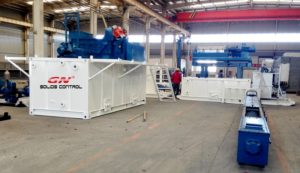 This customized oil sludge treatment system is composed of 5 parts, each part as a separated modular:
Part 1: shaker skid
The shaker skid including one unit of high G drying shaker and 1 set of skid mounted mud tank. The function of this unit is to separate big solids from the oil waste.
Part 2: Centrifuge skid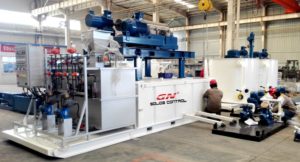 The centrifuge skid including one unit of high speed decanter centrifuge and 1 set of skid mounted mud tank, the centrifuge with 4 supporting legs on the mud tank, for the centrifuge mounted on the telescopic skid, there is no such supporting legs, only skid.
Part 3: Dewatering Unit
The dewatering unit is mounted on the skid of the centrifuge unit for convenient operation and transportation. The 3 compartment polymer mixing tank with dozing system and control system composed of dewatering unit. We have option to put them in the 20ft container or not, but the client need to make a proof cover on top of the dewatering unit if no container.
Part 4: Acid & Alkali Liquid storage Skid
Part 5: Oil water separator:
The function is to separate water from the liquid, and the water will be storage into the water tank, which can be used to prepare for new drilling fluids or as circulation in the whole system, or it can be feed to the water treatment plant for further treatment, finally it will reach the disposal standard.