Recently GN solids control shipped 3 batch of solids control equipments to Russia for the service of 10 drilling rigs, including shale shaker, decanter centrifuge, centrifugal type vacuum degasser.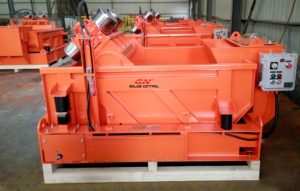 The client meet all the solids control equipments manufacturer in China and compared in all aspects, finally choose GN solids control as the only supplier. We always welcome our clients to check the factory and also check our competitor's factory, and watching the real strength of each supplier, do not only "listening". And all the clients who visited all the suppliers will finally choose GN solids control, they are smart business man after comparing the production machines, the workshop management, the efficiency of our works, the experience and design capability, the international reputation. GN is always confident with the comparison of these strength, not only price issue.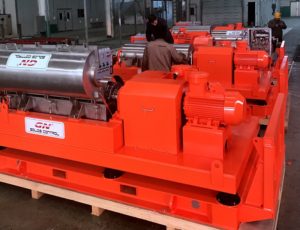 The centrifugal type vacuum degasser is our new products, our traditional vacuum degasser is horizontal type with a horizontal vessel. For 1000~1200 gpm treating capacity vacuum degasser, we have GNZCQ270A model, for 1500gpm treating capacity, we have GNZCQ360A.
The shale shaker GNZS593E is developing from 4-panel shale shaker GNZS594E-HB, with screen dimension 585x1165mm, and total screen area is 2.73m2. Sometimes when the mud tank width has a limit to install the 4-panel shale shaker, we will install 3-panel shale shaker like GNZS703E and GNZS593E.
Decanter centrifuge is one of our popular equipments, which is the best sold model GNLW363CG high speed decanter centrifuge, the max speed up to 3900rpm, the normal working speed is 3200rpm. The centrifuge can be used for high gravity drilling fluids, low gravity drilling fluids and barite recovery.
Fast Delivery time is one of the reason to win this order. We make a lot of inventory for fast shipment for our clients, this is also the strength of a company who has capability to make stocks in such tough time of oil industry.
Welcome you to contact GN solids control if you need solids control equipments for fast delivery and high quality, good performance with a reasonable price.